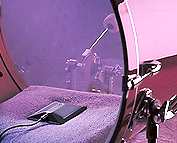 Shure beta91
Product Description From Shure:
The Beta 91 condenser cartridge combines superior "attack" and "punch" for studio quality sound -- even at the extremely high sound pressure levels encountered inside a kick drum. Its boundary effect design produces a strong, solid low-end response that has been specifically tailored for heavy bass applications.
Its cardioid pattern provides outstanding gain before feedback and superior rejection of unwanted sound, making the Beta 91 ideal for live concert applications. What's more, the low profile design of the Beta 91 eliminates the need for external mounting hardware, while its heavy-duty Triple-Flex® cable represents a significant improvement over its highly successful predecessor, the SM91A.