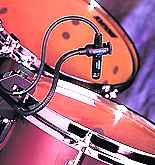 Shure beta98ds
Product Description From Shure:
The Beta 98D/S is a high performance mini-condenser microphone designed to excel at professional sound reinforcement or recording. Its ultra-uniform supercardioid pickup pattern provides high gain before feedback and excellent rejection of unwanted noise. In addition, an optional cardioid cartridge lets you easily adapt the mic to different applications.
As the successor to the popular SM98A, the Beta 98D/S features several notable improvements. Dynamic range is 4 dB greater, as is headroom, while maximum SPL is 5 dB higher (now 160 dB!). Physically, the mic utilizes a thicker, beefier Triple-Flex® cable (detachable).
With the unique A98D microphone drum mount (supplied), no other rim-mounted microphone stays more securely in place. This hardware has been redesigned for quicker, more secure, rim-mounting without the need for a drum key. Its flexible gooseneck lets you position the mic in practically any configuration, so you get a virtually unlimited choice of sound options. Its unobtrusive design and compact size help the Beta 98D/S reduce stage clutter to an absolute minimum. (The microphone is also available without the drum mount - model Beta 98/S.)