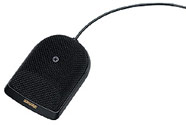 Shure Easyflex EZB
Product Description From Shure:
The Easyflex® line of miniature condenser microphones are the perfect choice for all types of low profile applications, where quality, value and budget are primary considerations. The boundary condenser microphones feature either a cardioid or omnidirectional polar pattern, and are available with a charcoal gray finish for unobtrusive placement in most surroundings.
Each Easyflex boundary microphone ships with an attached 12 foot cable with in-line preamplifier, and features recessed mounting holes for ease of installation.
Like all Shure products, the Easyflex line is extensively and rigorously tested for quality in operation and performance in real-life environments to be reliable and consistent in performance. For ease of your sound reinforcement requirements in auditoriums, AV applications, boardrooms, houses of worship and schools, look no further than the wide frequency range and high sensitivity of the Easyflex family for solid performance at an affordable price.