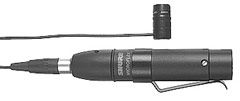 Shure MX184
Features
Pivoting, Single-Microphone Tie Clip
Dual Microphone Tie Clip
Black, Snap-fit Foam Windscreen
Belt-Clip Preamp
4-foot cable with 4-pin mini connector
The Microflex Lavaliers are completely compatible with all Shure Wireless transmitters, and their high sensitivity and wide frequency response guarantee great sound with a minimum of RF interference or electromagnetic hum.

Product Description From Shure:
They're no bigger than a paper clip unless you consider the sound they produce. The Microflex Lavalier microphones bring a new level of sophistication to personal voice reproduction. Like all Microflex family microphones, the Lavaliers use Shure's interchangeable condenser cartridges, available in cardioid, supercardioid or omnidirectional polar patterns. That means you can be sure there's a Microflex Lavalier that's right for your job.