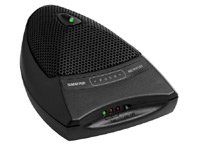 Shure MX692
Product Description From Shure:
The MX692/C Wireless Boundary Microphone is the solution for superior Shure sound and performance, providing modern audio/video operators with a sophisticated way to address permanent installation issues.
The frequency-agile cardioid MX692/C features over a hundred selectable channels, and a customizable touch-sensitive logic switch. The clean sound and low profile of Shure's Microflex MX393/C boundary microphone combines with the flexibility of the UC1 wireless transmitter for freedom of placement, easy setup and storage, and logic control (requires UC4 wireless receiver).
With no holes to drill, the cable-free MX692/C will seamlessly integrate into modern installations for maximum freedom of placement.