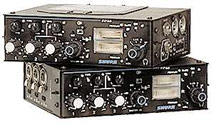 Shure FP 33
Features
High-quality, sealed input potentiometers
Dynamic range of over 100dB
48V phantom, 12V phantom power, and 12V T (A-B) power
LED indicators of input levels, output peaks, limiter action, and low battery.
Pop-up pan pots and a link switch to couple inputs 2 & 3 into a stereo pair
Mix Bus to connect an additional FP33 or FP32A
Comprehensive headphone monitoring control including headphone MS stereo matrix
Internal DIP switches for over 4,000 customized setups.
The FP33 has an exceptionally low self-noise and a wide dynamic range that are perfect for use with DAT and other digital recording media.
Product Description From Shure:
The FP33 is a 3-input, 2 output, portable stereo mixer specifically designed for remote audio recording, electronic field production, electronic news gathering, and location film production.