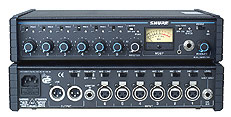 Shure M367
Features
Six balanced mic/line inputs
Two XLR outputs
Adjustable limiter threshold
Power On, input clipping and output peak/limiter LEDs
12- and 48-volt phantom power
1 kHz tone oscillator switch (mutes all inputs, level control on master)
Mic/line switches on each input and output
Low-cut filter switches
Headphone monitor circuit
Two position Mix Bus
VU metering
Easy-access side battery compartment, with battery check function
Power via battery two standard 9-volt alkaline or 120/230V ac (detachable power cord supplied)
Rack mountable with available A367R accessory

Product Description From Shure:
The Shure Model M367 is a six-input, portable microphone mixer/remote amplifier specifically designed for professional applications in electronic news gathering (ENG), electronic field production (EFP) and general audio mixing. Exceptional low-noise design makes the M367 ideal for use with digital transmission links and digital video/audio recording media, including ISDN and DAT. Compact and rugged, the M367 is built to withstand the most demanding field production conditions. In addition, its excellent performance, versatility and features make it an ideal choice for studio, remote, or sound reinforcement use, and as an add-on mixer for expanding existing facilities.
Each M367 handles up to six microphones or line-level signals. Any high-quality, low-impedance, balanced microphone using a dynamic or condenser* transducer (including wireless and shotgun types) can be used. Additional M367 or other Shure mixers can be linked using the rear-panel mix bus jacks.
*Self-powered or operable on 12 or 48 Vdc phantom power.