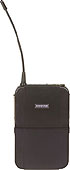 Shure UC1 Wireless Transmitter
Features:
Frequency-agile; a choice of over 100 user-selectable frequencies (international versions may vary).
4-pin mini connector or optional LEMO input connector.
Combined power on/off and mute switch.
Remote audio mute connector allows external audio and/or RF muting capability.
Three-segment battery fuel gauge.
Two-position attenuator switch (0 and -20dB) to accomodate different input sources.
Adjustable audio gain control.
Flexible 1/4-wave antenna.
Eight hours battery life.
9V battery included.
Rugged plastic case design.
Product description from Shure:
The UC1 body-pack has a slim, low-profile design, and functions with the full line of Shure lavalier and instrument microphones as well as guitar cables.
The UC1 comes with a 4-pin mini connector.
The UC1L comes with a LEMO input connector.