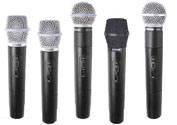 Shure UC2 Wireless Transmitters
Features:
Frequency-agile; a choice of over 100 user-selectable frequencies (international versions may vary).
Combined power on/off and mute switch.
Three-segment battery fuel gauge.
Adjustable audio gain control.
Internal antenna.
Eight hours battery life.
9V battery included.
Rugged plastic case design.
Product description from Shure:
The UC2 handheld transmitters are available in four microphone options that feature microphone capsules from some of Shure's most popular microphones, including the SM58, Beta 58A, SM87A, Beta 87A and Beta 87C.
Five available microphone choices:
SM58
Beta 58A
SM87A
Beta 87A
Beta 87C