Sony DCR-IP55
User Manual

To download the operating manual, right-click the download icon and select "Save As" (or "Save link as", "Save target as", etc).
If you're happy with the manual, a small
donation
would be very much appreciated. Thanks!
Features
1-megapixel MicroMV camcorder and digital still camera
10x optical zoom lens (digital zoom to 120x) with Super SteadyShot image stabilizer
2.5-inch rotating precision SwivelScreen hybrid touch panel LCD
Memory Stick slot, remote control, pop-up flash and Super NightShot
NP-FF50 InfoLithium Rechargeable Battery
Product Description From Sony:
Sony's FireWire-equipped DCR-IP55 MicroMV Handycam camcorder features a 1-megapixel CCD sensor and offers 520 lines of horizontal video resolution and still image resolution of 1,152 x 864. It also offers a foldout handle for use in shooting video on an angle, above a crowd, or when following fast-paced sports.
The DCR-IP55 boasts Carl Zeiss optics with an advanced multilayer coating. It features a 10x optical and 120x precision digital zoom, SteadyShot picture stabilization, and a super NightShot infrared system for recording in total darkness--new to MicroMV Handycam camcorders.
In addition to video, the DCR-IP55 offers enhanced digital still photo features, including intelligent pop-up flash and hologram AF--an autofocus feature designed to achieve accurate subject focus with minimal contrast in dark conditions. Through an MPEG movie AD mode, the DCR-IP55 also allows you to capture MPEG1 compressed video and audio for up to 60 seconds directly to Memory Stick media in four different quality modes: light, standard, fine, and super fine.
The MicroMV tape is 70 percent smaller than a MiniDV tape and provides up to 60 minutes of digital video footage. It has a 64K memory chip that allows for a multisearch function to access different recorded sections of the tape as one would a DVD, creating a thumbnail image of each recorded scene on the tape. Additionally, whenever a MicroMV cassette is inserted into the camcorder or the VCR mode is used, cassette information is automatically displayed on the LCD showing the first and last date of use, how much recording space remains, and titling capability so the user can title the videotape.
Connect to your PC or Mac via a superfast IEEE 1394 port (also called FireWire). You can also connect wirelessly to a Bluetooth-enabled PC.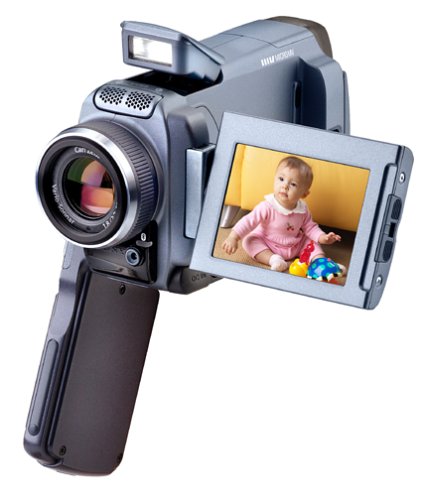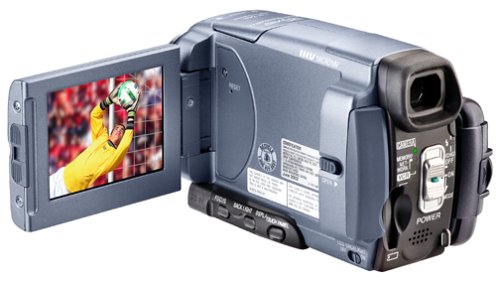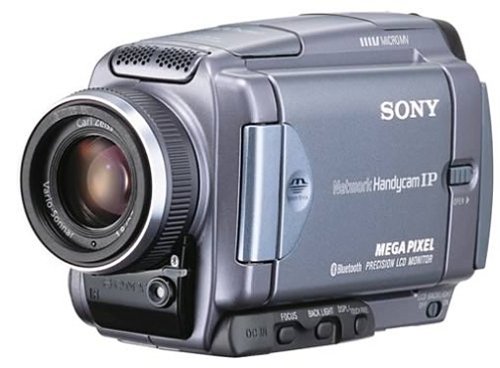 Specifications
| | |
| --- | --- |
| Video format: | MicroMV |
| Progressive scan CCD: | No |
| Audio: | 12/16-bit stereo PCM |
| Maximum CCD resolution: | 1070K gross pixels CCD |
| CCD size: | 1/4.7 inches |
| Still Actual: | 1000K Pixels |
| Video Actual: | 690K Pixels |
| Focusing: | Full Range Auto/Manual (Ring), Spot (Touch Panel) |
| Focal Distance: | 3.7-37mm |
| 35mm Conversion: | 50-500mm (Camera Mode)42-420mm (Memory Mode) |
| Filter Diameter: | 30mm |
| Minimum Illumination: | 7 Lux (0 Lux with NightShot. Infrared System) |
| NightShot Infrared System: | Super NightShot, Color Slow Shutter |
| Shutter Speed: | Auto, 1/4-1/4000 (Program AE, Slow Shutter) |
| Memory Mode: | 1152 x 864 and 640 x 480 |
| MPEG Movie AD Mode: | Light (144 x 96) 10 fps, Standard (144 x 96) 10 fps, Fine (352 x 240) 30 fps, Superfine (352 x 240) 30 fps |
| Viewfinder: | Precision Color (180K) |
| Video Input/Output: | Yes/Yes (Special, S-Video/A/V) |
| Audio Input/Output: | Yes/Yes (Stereo, Special) |
| Headphone Jack: | No |
| Mic-Input: | No |
| White Balance: | Auto/Outdoor/Indoor/Hold |
| Exposure: | Yes, Touch Panel (24 Steps) |
| Power Consumption (VF/LCD/VF+LCD): | 3.8W/4.4W/4.7W |
| Eyepiece viewfinder: | Yes |
| LCD screen size: | 2.5 inches |
| LCD swivel: | Yes |
| Aperture: | F/1.8-2.0 |
| Optical zoom: | 10x |
| Digital zoom: | 120x |
| Filter diameter: | 30mm |
| Hot shoe for external light: | No |
| Image stabilization: | Yes |
| Infrared capability: | Yes |
| Remote included: | Yes |
| Digital camera capability: | Yes |
| Still photo resolution: | 1152 x 864 and 640 x 480 |
| Included still photo memory: | 8 MB Memory Stick |
| USB Streaming: | Yes |
| IEEE1394 output: | Yes |
| Connections: | Bluetooth wireless, USB, S-Video |
| S-Video output: | Yes |
| Battery type: | NP-FF50 InfoLithium Rechargeable Battery |
| PC compatibility: | Windows 2000, Me, XP; not compatible with Macintosh |
| Included in box: | AC-L20 Power Adaptor/In Camera Charger, NP-FF50 InfoLithium Rechargeable Battery, RMT-817 Wireless Remote Commander. Remote Control, 2 AA Batteries, Stereo A/V and S-Video Cable, Lens Cap, Wrist Strap, 8MB Memory Stick. Media, Stylus, Cleaning Cloth, USB Cable, CD-ROM PIXELA ImageMixer with USB Driver, MovieShaker 3.1 (Microsoft Windows) |
| Width: | 2.4 inches |
| Height: | 2.9 inches |
| Depth: | 5.1 inches |
| Weight: | 15 ounces |
| PAL version: | Sony DCR IP55E |