Sony DCR-VX2100
User Manual

To download the operating manual, right-click the download icon and select "Save As" (or "Save link as", "Save target as", etc).
If you're happy with the manual, a small
donation
would be very much appreciated. Thanks!
Features
Digital MiniDV Handycam camcorder with a 58mm aspherical lens and 380,000-pixel CCD
12x optical zoom lens (digital zoom to 48x) with Super SteadyShot image stabilizer
2.5-inch rotating LCD and color viewfinder
Manual controls for shutter and exposure, Stamina Power Management, and intelligent accessory shoe
NP-F330 InfoLithium Rechargeable Battery
Product Description From Sony:
Take Control of Sound and Vision with the DCR-VX2100, offering the brightest video results of all Sony MiniDV models. With its new Advanced HAD progressive scan CCD technology, illumination is improved dramatically, delivering superior low-light performance without the use of infrared technology. By increasing the CCD's sensitivity to light, clearer, brighter video with more lifelike color can be captured, even when recording in dimly lit environments.
Its 58mm aspherical lens and duel-position neutral density filter minimize distortion from standard spherical lenses and compensate for varying lighting situations such as studio lights or direct sunlight. Additionally, the VX2100 includes a built-in lens cap to protect the enhanced optics package, manual audio control and PCM Digital Stereo Audio in 12 and 16-bit modes, a manual focus and manual zoom ring, built-in color bar generator, 16:9 wide screen recording capability, intelligent accessory shoe, both 12x optical and 48x digital zoom, advanced optical SteadyShot picture stabilization and up to seven hours of operation with the optional NP-F960 InfoLithium battery.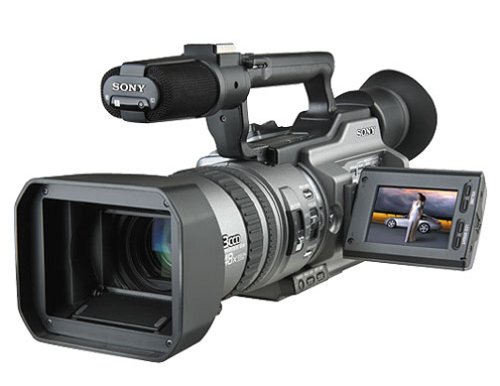 Specifications
| | |
| --- | --- |
| Video format: | MiniDV |
| Imaging device: | 3-1/3" 380K Pixel Advanced HAD CCD |
| Video actual: | 340K Pixels per Imager |
| Still actual: | 340K Pixels |
| Focal range: | f1.6 Ð 2.4 |
| Focal distance: | 6.0 Ð 72mm |
| 35mm conversion: | 43.2 Ð 518.4mm (Camera Mode), 43.2 Ð 518.4mm (Memory Mode) |
| Filter diameter: | 58mm |
| Optical zoom: | 12X |
| Digital zoom: | 48X |
| Focusing: | Full Range Auto/Manual Ring |
| Minimum illumination: | 1 Lux |
| Shutter speed: | 1/4 - 1/10,000 (Manually Adjustable) |
| Viewfinder: | Precision Color (180K) |
| LCD: | 2.5" (211K) Precision Hybrid Color |
| Accessory shoe: | Yes (Intelligent) |
| Video input/output: | Yes/ Yes (Phone Jack and S-Video) |
| Audio input/output: | Yes/Yes (Stereo, Special) |
| i.LINK DV interface (IEEE1394): | Yes |
| USB terminal: | N/A |
| USB streaming: | N/A |
| Headphone jack: | Yes |
| Mic-Input: | Yes |
| White balance: | Auto, Outdoor, Indoor, Hold |
| Exposure: | Manual Dial (19 Steps) |
| Power consumption (VF/LCD/VF+LCD): | 4.0W/ 4.7W/ 5.0W |
| Width: | 4.75 inches |
| Height: | 6.38 inches |
| Depth: | 15.5 inches |
| Weight: | 3 lbs 6 oz |
| What's in the box: | AC-L15 Power Adaptor/ In Camera Charger, NP-F330 InfoLithium Rechargeable Battery, RMT-811 Wireless Remote Commander Remote Control, 8MB Memory Stick Media, 2AA Batteries, Stereo A/V Cable, Lens Hood, Shoulder Strap |