How FTP Clients Work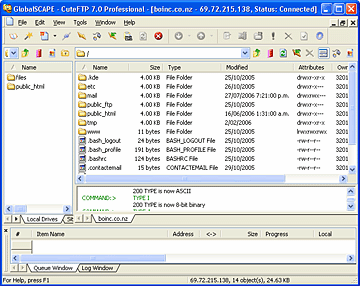 Most FTP clients have the same basic layout, which is somewhat like a standard file manager such as Windows' My Computer. The example pictured here is CuteFTP, but the main features are common to all good clients.
In this example the folder list in the left pane shows folders and files on the local computer. The large pane shows folders and files on the server. Other panes show status messages, queues, etc.
The basic idea is to select files in one pane and transfer them to the other. For example, select all the files in your web folder which you have edited and transfer them to the corresponding folder(s) on the server. Viola — your website has just been updated!
You can also transfer in the other direction, i.e. download files from the server to your hard drive.
The upload/download function can be done through the menu but most programs provide nice easy buttons, usually in the form of up and down arrows.
Advanced FTP clients offer more features such as queue management, security systems and file editors.
---
Next Page: Choosing an FTP Client