Windows Command Prompt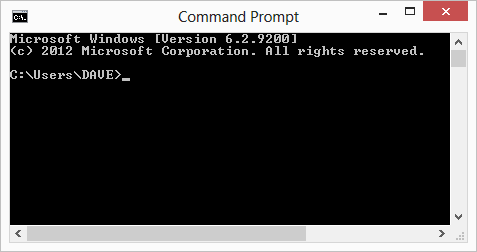 Command Prompt window
Occasionally you might need to use the Windows Command Prompt to enter a particular command. This can be a little intimidating if you've never done it before but it's actually very simple. Hopefully you've been given instructions so all you need to do is open the window, type or paste your command, and hit the Enter key on your keyboard.
To open the Command Prompt window:
Windows 7:
Click the

Start

button.
In the

Search Programs and Files

field, type "Command Prompt" and hit

Enter

.
Windows 8:
Open the search charm and enter "Command Prompt".
Tips
Be extremely careful when typing commands. Triple-check that your spelling is absolutely 100% correct, including any punctuation and spaces. Even one single wrong character or space can cause a lot of damage.
You can copy commands from elsewhere and paste them into the prompt window. After copying the text, right-click inside the prompt window and select

Paste

.