Overview of Windows Media Center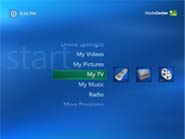 Windows Media Center Edition (MCE) is a special version of Windows designed to drive your home entertainment system. It's basically like a normal PC running Windows, but it uses your TV as a monitor and your sound system for audio.
These are the basic components:
PC with TV tuner card and DVD drive, running Windows Media Center Edition
Monitor or television set
Sound system (optional — you could use the TV's speakers)
Remote control
Wireless keyboard & mouse (optional)
Features
MCE consists of 6 main areas, all accessed from the main menu:
My DVD
Play DVDs using the PC's DVD drive.
My Videos
Save your favourite videos on hard drive and organise them in folders for easy access.
My Pictures
Save photos in folders, organise into albums and create slideshows.
My TV
View live or recorded TV programs. Live TV allows you to pause, rewind and resume programs. Recorded TV includes a scheduler to automatically record and organise saved programs.
My Music
Save music in folders, retrieve album information from the net, create playlists.
Radio
Program your favourite radio stations.
Online Spotlight
Get access to online content (not all countries are supported).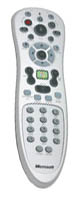 Remote Control
The official MCE remote control is the last remote control you'll ever need (well, maybe). Once you have your system set up you can control everything from here.
The remote control functions adapt to the area of MCE you are using, for example, the stop/play buttons work the same for live TV as recorded music. The up/down/left/right buttons have a whole range of functions depending on what you're doing, but it's surprisingly intuitive so there's no need to be intimidated.
Other common functions include:
Direct access to all main areas of MCE.
Manage recordings, playlists, etc.
Enter text characters when necessary.
Start up Windows Media Center, shut down the PC.
While the remote can control virtually every aspect of MCE, you will still need a keyboard if you want to use the computer's other features such as web browsing and running other applications.
Plugins & Additions
There are a range of official and unofficial add-ons for Windows Media Center. Common examples include picture enhancement, advanced scheduling, games, etc.
These applications are changing constantly — you should search the Internet for the current favourites.
Cost
The cost is around the same price as a decent home PC. Assuming you already have a suitable TV you don't need to buy a monitor — this compensates for having to include a decent amount of RAM and tuner card(s).