Windows Movie Maker Overview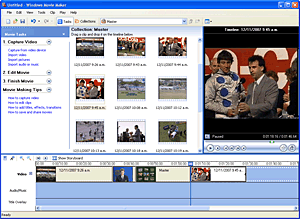 Windows Movie Maker is a very popular entry-level video editing application. It's popularity comes from the fact that it is included free with Microsoft Windows.
Windows Movie Maker is loved by beginners but often derided by advanced amateurs and professionals due to it's severe limitations. It is a fine package to get your hands dirty and have a go at video editing, but it won't take you long to find a file that can't be edited or some other problem that stops you dead.
Limitations aside, if you are working with standard video footage (e.g. from your camcorder) Windows Movie Maker is probably the easiest way to get started with video editing for PC users.
Workflow
Windows Movie Maker works in much the same way as any other video editors: You begin by importing video clips (and other media) into a storage bin, then arrange them in a timeline. Finally, you export the finished timeline as a new file.
Basic editing functionality is included for individual clips, e.g. splitting, trimming, etc.
History
2000 : Windows Movie Maker 1.0 (Windows Me)
2001 : Windows Movie Maker 1.1 (Windows XP)
2002 : Windows Movie Maker 2.0 (Windows XP)
2004 : Windows Movie Maker 2.1 (Windows XP SP2)
2004 : Windows Movie Maker 2.5 (Windows XP Media Center Edition 2005)
2006 : Windows Movie Maker 2.6 (Windows Vista)
2007 : Windows Movie Maker 6.0 (Windows Vista)

Original Windows Movie Maker logo

Logo for Windows Vista version (2007)