Things You Don't Want to Hear when you work in video & television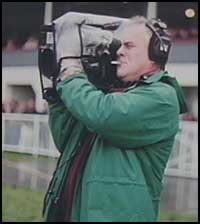 Note: Some of these things have become outdated since the advent of non-linear editing. We've left them here so you can laugh at how old we are and how things must have been for us in the "primitive days".

From Camera Operator, to Editor:
"Umm, I got most of the shots you need."
"You might have to keep an eye on the audio."
"Can I stay and help cut it?"
From Editor, to Camera Operator:
"What's happened to the audio?"
"You can't have left the tapes in here. I would have found them."
"I hope you didn't use those tapes in the white cardboard box."
"You remember that problem we had with the machine that chewed tapes, and we thought we'd fixed it...?"
From Editor, to Producer:
"Don't worry, it's just that monitor."
"Yeah, I think I know where that footage is."
From Producer, to Editor:
"We've had to revise the deadline."
"There were a couple of typos in the information for the graphics."
"The client likes what you've done, but he's just got a few suggestions..."
From Anyone, to Editor:
From Technical Support, to Anyone:
"Sounds more like operator error to me."
"Well, broadcast quality is largely subjective..."
"No fault found."
From Some Dude Sent By The Equipment Hire Company, to Production Crew:
"Now, there's a bit of a knack to using this."
"I know this thing looks a bit road-weary, but it'll be fine as long as you treat it well."
"The guy who normally sets this up couldn't be here today, but I think I know how it works."
"Which day did you say you wanted this?"
From Anyone, to Anyone:
"We may have a slight problem, but don't worry."