Still Photography Cameras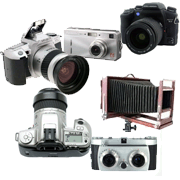 Cameras can be divided into several major types. Although most cameras operate in roughly the same way, there are a few notable differences. It helps to know what type of camera you are using, and what its strengths and weaknesses are.
Common Components
Firstly, let's look at what cameras have in common. Except for some specialist types of camera, all cameras have the following basic components:
Body: A light-tight compartment to house the recording medium (film or CCD).
Lens: A transparent element to focus light rays onto the recording medium.
Aperture: A method of controlling how much light reaches the recording medium.
Shutter: A method of controlling how long the recording medium is exposed to the incoming light.
Viewfinder: A way to see the image that is to be captured.
Transport: In film cameras, a method of moving the film and holding it in the correct position.
Types of Camera
SLR (Single Lens Reflex): The viewfinder sees the same image as the main lens, i.e. what you see is what you get. SLRs also allow you to change lenses for different purposes. This is a hugely popular type of camera, pretty much the standard for enthusiasts and professionals.
Viewfinder (or range finder): In this type of camera the viewfinder is separate to the lens. This is common in cheap cameras, although some professional cameras also use this configuration. The main problem with a separate viewfinder is that the image you see may not be quite the same as the image that gets recorded. This limitation is overcome in professional cameras by using viewfinders that compensate for the different positions. Viewfinder cameras do have some advantages; for example, lower noise and higher light levels to the viewfinder.
Twin reflex: The camera has two lenses — one for the photograph and one for the viewfinder. This type of camera has certain advantages in some professional situations.
View: A flexible bellows joins two standards — one with the lens and the other with the viewfinder or film. This allows for unusual types of composition; for example, distorting the shape of the image by skewing the film plane.
Pinhole: A very simple camera without a lens.