Infrared Photography
Not too long ago the learning curve for infrared photography was steep – and expensive. Learning to shoot in infrared required the purchase of expensive infrared film, along with an array of filters and other pricy equipment. Worse yet, getting that perfect shot often required many tries, resulting in wasted film and wasted money.
The digital age has transformed the world of photography, and made mastering the art of infrared photography a great deal easier and less expensive. Many digital cameras, including some of the most affordable models on the market, do a great job of shooting in infrared light, making it easy for casual photographers to experiment with this unique type of photography.
The sensors included in digital cameras are already quite sensitive to light in the infrared spectrum, and this sensitivity can lead to unexpected consequences, including problems with color balance and sharpness. In order to compensate for these problems, manufacturers usually equip their cameras with some type of infrared blocker. It is important for any would be infrared photographer to consult the camera's manual for information about the type of infrared blocking that may be in use.
Photographers who wish to take advantage of the inherent infrared capabilities of their digital cameras can simply purchase a filter that will remove visible light. With the blocker in place the camera can be used to shoot infrared images. No other special handling is needed, and the camera can be used with its normal shutter speed, focus and composition.
More serious photographers can get even more versatility out of their digital SLR cameras with a variety of special filters and visible light blockers. A number of manufacturers, including such well known brands as Sony, Nikon and Fuji, market a variety of filters and blockers designed to make infrared photography easier and more interesting.
Infrared photography holds many possibilities for both casual and professional photography. Some of the uses of this special type of photography are practical, including crime scene photography and night vision shots. Other infrared photography is more ascetic, with fine art shots and other special effects. No matter how the end result will be used, however, infrared photography has come a long way with the dawning of the digital age.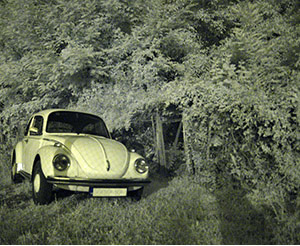 This photo of a Volkswagen Beetle was taken with an infrared filter.
Conditions:
* Camera: Canon PowerShot G6
* Date Taken: 2005:06:18 11:20:39
* Exposure Time: 1/4 sec.
* Aperture Value: f/2.0
* Metering Mode: Center-Weighted Average
* Flash Fired: Flash did not fire, compulsatory flash mode.
* Focal Length: 7.2 mm
* Shutter Speed: 64/32 sec. (APEX: 2)
Photo by Mehmet Ergun, 2005 (license)