Interview With Bradley Reeves, Film Archivist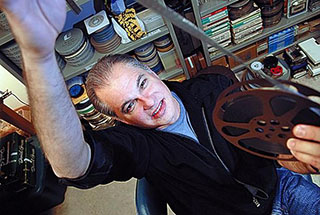 Bradley Reeves
What happens to children who sneak downstairs in the middle of the night to watch vintage movies on television? If they're anything like Bradley Reeves, they grow up to be film archivists. Here's how a passion for WC Fields comedies, Humphrey Bogart classics, and other bygones of the silver screen evolved into a full-time career.
From Film Buff to Professional Archivist
When Reeves grew up, he discovered that many of the vintage Hollywood films he loved so much were in danger of decomposing for good. So he headed off to New York to attend The L Jeffrey Selznick School of Film Preservation, one of the first schools specializing in this field.
In 2005, Reeves and his wife Louisa Trott (also a trained film archivist) formed the Tennessee Archive of Moving Image and Sound (TAMIS) in their hometown of Knoxville, Tennessee. The Archive's goal is to preserve locally-made regional film, television, and audio. "This area has always been rich in music culture, so there is a wealth of amazing material out there waiting to be discovered and saved," says Reeves.
Now, Reeves spends his days absorbed in fascinating projects. At the moment, he's working on the preservation of some lost local television master tapes. The tapes are on the older two inch Quadruplex format that was used for television from the 1950s through the 1980s. "These masters were saved by an old time television engineer who kept them in his barn storage shed for decades after a local television station discarded them," Reeves says. "Many of the tapes contain amazing vintage commercials for local merchants and local country music programs popular during the 1960s and 1970s."
Other current projects include restoring some decomposed 1930s 16mm home movies that an Athens, Tennessee missionary shot in Tibet, and preserving some 78 rpm acetate disc recordings of acapella religious music by local mountain residents in 1947. Even though TAMIS has a regional focus, there's a huge variety in the types of projects that pass through Reeves' hands, so the job never gets boring.
The Ups and Downs of Archiving
Archiving is a bit like detective work. If you have a love for history, you'll get a thrill out of uncovering forgotten treasures and creating a record of the past for others to marvel at. "I love the discovery of home movie footage and fondly-remembered local television connecting my city with its past, and bringing that past back to the present for others to enjoy and appreciate," Reeves says. "I get a huge satisfaction knowing that TAMIS has preserved our regional history for others to research and benefit from many years after I am gone."
On the downside, the long hours and weekend work can be draining. The TAMIS budget doesn't support full-time employees other than Reeves, so he handles most of the material that comes into the archive. "We do have some part-time volunteers to help spread the work load a bit," he says. Not all archives are understaffed, but long hours are a given, so archivists need to be dedicated and passionate individuals.
If you're dedicated enough, you can take your archiving career into any number of unusual and interesting settings. You might land a job with a Hollywood studio, a university, a museum, or a government agency such as the Library of Congress. Or you might find work with one of the many specialized regional archives all over the country.
Any organization that maintains a collection of archival film requires a skilled archivist to manage the materials, so there are plenty of options to choose from if you keep your eyes open. And if you're drawn to preserving the media history of a particular area—like your hometown--take a cue from Reeves and start your own archive.
Blending Old and New Technology
The quirky mechanics and aesthetic charm of démodé film equipment appeals to technology buffs with an appreciation of the past. Unlike other fields in media, archiving requires a good knowledge of obsolete technology as well as modern. Reeves uses a Mac on a daily basis, but he also uses wire recorders, reel-to-reel players, 3/4" U-matic VTRs, and a host of other antiquated media playback machines.
If you were to visit TAMIS, other tools you'd spot around the archive might include an Elmo 16mm transfer unit, a DV Cam recorder, and a Rek-O-Cut all-purpose archival record turntable. Reeves and his assistants use these on a daily basis to view, assess, organize, and enhance the wealth of recordings that come into their hands.
Tips for a Successful Archiving Career
If you think you have a taste for archive work, Reeves recommends volunteering at a local archive in your community. "We always need cost-free labor, and this is one way to figure out if you really want to do this type of work as a career," he points out. "It can also lead to employment at the archive should a position come up."
You'll need a formal education in order to progress beyond entry-level archivist jobs. There are several schools specializing in film preservation education in the US and abroad. You can choose from a 1-year certificate program, a BA, or an MA in film archiving. The ever-increasing demand for media archivists in the digital age will help your chances of finding your dream job after graduation.
Film archivists can choose from a wide range of specialties, including cataloging, splicing and repairing film, or fundraising. Ultimately, you can create your own career based on your interest. "Those with computer interests and skills prefer the digital aspect of archive work, while others want to be on the presentation end of things--that is, putting together archival film screenings for the public," says Reeves. "My advice is, figure out your own personal strengths and weaknesses, then decide from there."
Whatever specialty you choose, becoming an archivist is a rewarding career for a special kind of person. "I love my job, and don't think I could do anything else," Reeves says.