Interview With Lev Polyakov, Independent Animator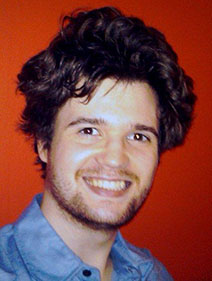 Lev Polyakov
Animators are often called "actors with pencils," and not without good reason. Good animators, like good actors, possess the skill of telling a story through character. Perhaps this explains why Lev Polyakov's entrance into animation blossomed out of an experience at the Young Actors program at Lee Strasberg Theatre Institute, where Polyakov studied acting for 5 years.
During a production of Romeo and Juliet (in which Polyakov played Capulet), someone photographed Juliet on the balcony scene. Unfortunately, says Polyakov, the actress had "a booger in her nose which was really visible even from far away in the photo." Merely unsavory to some, perhaps, but to the young Polyakov it was an artistic inspiration. His drawing of the scene (http://polyakovstudio.com/lev/Drawings/RomeoJuliet.jpg) ended up on the cover of Young Voices magazine, a publication showcasing young artists.
Although he didn't know it at the time, Polyakov had taken the first step into his new career. "I found myself enamored now," he says, "not just drawing a monster with a smaller monster living in their nose, but all kinds of things that would work in an animated film even better than on a piece of paper."
Now, Polyakov brings his fantastic ideas to life as an independent animator. At only 22, he has won multiple awards and has earned significant praise from Newsweek, The Inside Reel, and others. He is currently working on an animated short, Fantastic Plastic, and is writing a script for an animated feature.
With the growing affordability of software and the diverse areas for specialization, more and more artistic minds are turning to animation as a career. It's easy enough to learn the basics, but do you have what it takes to excel? We spoke with Polyakov about his experience learning how to animate, winning his first award, and building on success. Here are some of his tips for succeeding as an independent animator.
Know Your Tools
Mastering basic drawing skills is a crucial step for any would-be animator. "Keep a sketchbook and fill it up without restraint," Polyakov says. "Find art classes, and draw from life." Attending an educational degree program is not always essential, but it does provide you with a ready-made structure for learning your trade. "The other benefit of school is internships, which can give you a shot through the door into an animation studio," says Polyakov.
Although it's possible to rely solely on traditional pen and paper, most modern animators use a digital drawing tablet in the process of creating art. "Other than a pencil and sketchbook, my Cintiq and portable Toshiba tablet have served me well," says Polyakov. Digital tablets help animators bring their ideas to life efficiently, while maintaining the visceral pen-on-paper feel.
When it comes to animation software, Macromedia Flash has long set the industry standard. But competing technology is starting to give Macromedia a run for its money. As far as Polyakov is concerned, his honeymoon with Flash ended in 2003. "With the marriage growing stale, it got me seeing someone else... a mistress by the name of Toon Boom. She does the same things Flash does, but is more in 'toon' with my needs as an animator," he jokes. "I'm not sure about leaving Flash completely yet. I'd like to try to make a complete film using Toon Boom once to see if it really is better at everything, but if that is the case, I'm signing the divorce papers."
Make Friends With Animators
Belonging to a community plays a key role in the development of an animator. "Try to surround yourself with people who are as passionate as you are about animation, and who have had experience in it," Polyakov says. "While you can certainly go at creating a film alone and become an internet celebrity, you will most likely need people who can guide you into the right direction when it comes to making animation into a career."
Polyakov's animation career started to take off after he met his first mentor, Signe Baumane, one of New York's most prominent independent animators. "He gave me my first job in 2004 as a cell painter...sometimes I think I have the honor of being on of the last cell painters on earth!" says Polyakov. "Soon after, I got to meet Bill Plympton, and the rest of the merry band of New York's animation circle. All great people! They encouraged me to make my own films, and after a few unsuccessful attempts, I made an 8 minute short called Piper the Goat and the Peace Pipe, which won for best pre-college film at the 2005 Ottawa Animation Festival."
Attend Film Festivals
Attend every film and animation festival you can. You'll gain valuable exposure to some of the best work of your day, and you'll also strike up relationships with peers and mentors.
When it comes to showing your own work at festivals, Polyakov says good sound design can help your piece stand out. "Do yourself a big favor and don't use the new Lady Gaga song as the background music," he says. "If the audio is 50 percent of the film, sound design is 50 percent of the audio. Think about which sounds fit into your film rather than just choosing them at random, and if you can, try to work with a professional sound designer."
New independent animators may worry that they can't afford to hire sound designers, but it's more affordable than you might expect. "There are plenty of talented musicians out there who can provide music for a low licensing fee, or sometimes for free," Polyakov says. "Better yet, work with a musician to compose music especially for your film. That's what I did with my last two shorts."
A World of Opportunity for Animators
Animators today have more options than ever before. They can work for themselves, accept independent contracts, or take jobs with production companies. They can collaborate with sound designers and other creatives, experience the excitement of film festivals, and entertain millions of viewers.
The world of animation gives professional artists a platform to continually challenge themselves, enhance their skills, and express their creative vision. "The best part of being an animator," Polyakov says, "is the feeling you get when you see something that actually works and comes to life, after putting a lot of hard work into it."
Visit Lev Polyakov at www.levpolyakov.com.