Natalie Nicole Gilbert, Radio Host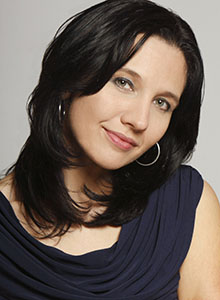 Natalie Nicole Gilbert
With one foot in the radio industry and the other in the music world, Natalie Nicole Gilbert spends nearly every waking hour creating commercials and radio programs and recording music. This immersive lifestyle demands a special blend of talent, technical smarts and adaptability.
A Day in the Life of a Radio Host
A radio host's typical workday is a blend of regular broadcasts, behind-the-scenes planning, and interaction with listeners. "I'll take today as an example," Gilbert said. "Getting to work, I tackled the Music Show promo for the day: a quick commercial telling listeners what they can enjoy later in the day with me if they listen in from 4 to 6pm. Then I logged into Twitter and Facebook for the station to see if we had any listener comments or replies that needed attention." Throughout the workday, Gilbert keeps an eye on Twitter and Facebook via HootSuite and sends periodic updates to listeners and fans.
"As the day continued," Gilbert said, "I opened up a recording session from our interview with the local Boys & Girls club a couple weeks ago." She prepared the show for broadcast and then spent some time programming music for the next week. "Along the way, I'd step into Studio B to pre-record the Music Show breaks for today, saving the weather for last in case of any sudden changes," Gilbert said. On days that she records the Music Show, 4pm is Gilbert's signal to step out of the recording studios and listen in, making sure all the on-air elements are running smoothly and checking off commercials as they air.
Although radio hosts can count on some predictability throughout the day, flexibility is an important aspect of their schedule. They might need to handle unexpected crises or re-prioritize at a moment's notice. For example, Gilbert keeps an ear out for mishaps or Emergency Alerts when listening to her program air, so that she can adapt to the situation quickly. She often takes a working lunch, squeezing in a few time-critical commercial voiceovers or some work for personal clients. On any given day, she might interview clients and artists, write copy, or produce a :30 or :60 spot.
When Gilbert's day ends, it doesn't end. "By the time I get home, fresh event scripts (liners) are waiting for me in my email inbox," she said. "After a quick bite to eat, I sit down and pre-record the morning show for the station back in the Midwest. If any more voiceovers are waiting and I have the energy to knock them out, I tackle it then."
With such a packed schedule, it's a wonder that Gilbert finds time to manage her music career—but she does. She spends the weekends recording music in her home studio or performing in front of live audiences. She's held lead and cameo roles in various productions, contributed vocals to sessions such as the French TV 8 project, and has released three albums.
Tools of the Trade
During her day job as a radio host, Gilbert handles a vast amount of audio data. There's a narrow margin for error, and the next deadline is always around the corner. Cutting-edge technology helps her make the most of every minute. "Cool Edit Pro and Adobe Audition do absolutely everything we need, including noise reduction, time/pitch correction (to ensure those spots are :60 in length), and hard limiting to touch up the volume of guest speakers," she said.
Adobe Audition and its precursor Cool Edit Pro are used industry wide, so if you're looking to break into a career in radio or music production, you'll want to familiarize yourself with both software programs. You can pick up a demo version of Adobe Audition from Adobe's website.
Gilbert uses a slightly different toolset in her home studio for recording and editing her own music. "I love my MXL 990 mic
....and my Behringer Eurorack mixer that includes many reverb settings. My Alesis QS8.1 keyboard is solid for most of my instrumental recording. And Sony headphones always seem to last the longest in all the studios I've been in over the years." She sticks with Adobe Audition to record her music for upload to iTunes, Amazon
, NoiseTrade, and other venues.
Become a Radio Host
If you want a career in the radio industry, a communications degree is helpful, but not a pre-requisite. More important than a formal education, according to Gilbert, is the desire to learn and adapt to ever-changing technology, as well as a rich understanding of your audience. Here are four tips to help you get started.
Volunteer.
Working for free or as an intern is a great way to get your foot in the door and gain experience.
Shadow anyone who will let you.
Witnessing a radio host first-hand will teach you more about radio broadcasting in one day than a semester in the classroom.
Read trade publications.
Staying on top of industry news and connecting with other professionals is essential to success. Gilbert reads BMI Music World magazine and All Access email updates.
Keep your resume and announcer demo up-to-date.
When that big opportunity comes along, being ready to apply at a flash might give you the edge you need.
The Good, the Bad and the Future
Pursuing a career in radio can be deeply satisfying and rewarding. For Gilbert, the highlight is being able to make a positive impact on the community and reach out to people in the privacy of their own homes and cars. There's also plenty of opportunity to meet interesting people in the entertainment industries and make unexpected connections. "The head of MovieGuide, Ted Baehr, pops into our stations from time to time to record his film reviews for radio," Gilbert said, "and he thoughtfully thanks us for the studio space by inviting our staff to the MovieGuide Awards each February in Beverly Hills."
Working in radio also has its downside. For one thing, the turnover rates are astronomical. "The first radio station I worked for had 21 staff members when I was hired," Gilbert said. "Three years later, only three of them remained." However, if you're passionate about the field, the ups outweigh the downs by a long shot. The best way to find out if the career suits you is to spend some time volunteering in a radio studio.
What does the future hold for the radio and music industries? Gilbert predicts big developments for both industries in coming years as they embrace the digital age. "Initial changes will be messy and difficult," she said, "as they already have been—with pirating, the performance tax, for example—but eventually the boat will right itself." For rookies and seasoned professionals alike, it'll be a must to stay on top of trends, master new technologies, and pay attention to the changing desires of audiences.
Learn more about Natalie Nicole Gilbert at www.NatalieNicoleGilbert.com.