Interview With Online Radio Host and Producer Robert Galinsky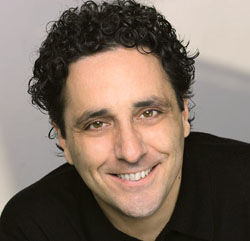 Robert Galinsky
Robert Galinksy's love affair with radio has been a driving force throughout his life. "I've always been attracted to radio because of its power to influence people and change the world," Galinsky says.
Although nobody could have foreseen the twists and turns his career has taken, even as a young DJ in college Galinsky had a hankering to work with radio. "I love to improvise, and radio offers a perfect platform for fun voices and spontaneous moments and conversations," he explains.
Today, Galinsky's experience runs the gamut from hosting internet radio shows to producing live theater and developing an innovative educational program. If there's anything to be learned here, it's that the changing face of radio and technology has given rise to never-before-seen creative opportunities. Following your passions may not always take you in a straight line, but the journey is an exciting one.
Embrace the Pioneer Mindset
Hitching your wagon to emerging technologies is a smart way to establish expertise in your field. While not all technologies will be with us in the long run, missed opportunities tend to cause more regret than failed enterprises. The pioneers of today are the leading voices of tomorrow.
For example, a decade and a half ago Galinsky was ahead of the game when he founded one of the first-ever internet radio stations. The Sundance Award-winning documentary We Live In Public featured Galinksy's radio station Pseudo Programs Inc.
As everyone knows, internet radio is mainstream now. Galinksy couldn't have predicted exactly how the marriage of internet and radio would play out, but his entrepreneurial attitude made him a key player in the world of online radio today.
Reality TV: Not Just a Fad
In the year 2000, BBC News asked, "Is the popularity of reality TV a passing fad or is it set to become the future trend of TV programming?"
A decade later, the answer is self-evident. A Google search turns up over 130 million hits for anything reality TV related.
Until Galinsky saw the need and decided to fill it, there was no formal training for this rapidly growing niche. Today, those who dream about being a a reality TV cast member can attend the New York Reality TV School (www.newyorkrealitytvschool.com). Students go through a comprehensive training that prepares them to handle auditions and intense interviews, not to mention the roller-coaster ride of being on a reality show. According to Galinsky, NYRTVS helps professionals and beginners take their places as authentic, confident and vibrant real people, entertainers and personalities on any reality TV show.
"With the success of my reality TV school, I built a radio component into the curriculum where students can get media experience in-studio as well," Galinsky says.
Moral of the story? Look for emerging niches in your industry and consider becoming a leading provider of educational resources. It's just one more way to establish yourself as an expert, provide genuine value to other creative people, and enhance quality standards across the board.
The school's popularity inspired Galinsky to join forces with RealityWanted.com to produce an online radio show. Robert Galinsky's Reality Wanted (www.realitywanted.com/radio) is an informative, opinionated and "often outrageous" radio roundtable conversation about the world of reality TV. Listeners revel in unparalleled access to reality TV industry insiders, veterans and stars, casting directors, managers, fans and producers. Dubbed the "Reality TV guru", Galinsky has hosted surprise guests from dozens of reality shows, such as Shark Tank, The Bachelor, America's Next Top Model and Survivor. "I'm looking to make the radio show a mandatory stop for anyone in the reality TV world," he says.
Making Every Moment Count
Galinsky's diversified professional life makes his workday one of endless variety. The upside is he's never bored, but it takes discipline and focus to juggle multiple responsibilities.
"The workflow is based on how time sensitive each project sees the light of day," he says. "Every day offers a lot of new experiences and they all revolve around making a positive mark in this world through theater, internet, and live events."
On a daily basis, Galinsky handles tasks related to NYRTVS, such as coaching and intake of new students. He also spends some time making bookings for Reality Wanted Radio.
Once a month, Galinsky produces a live theater show called the Manhattan Monologue Slam (www.mmslam.com) with his brother Philip. "I also am writing a musical that I hope to bring to Broadway," he says.
In addition to his other work, Galinsky enjoys contributing to the community through volunteering and mentoring. "Love to volunteer in the community garden on my block," he says. "I also have a great time lecturing and mentoring through VIP Talent Connect, an entertainment company that helps people navigate the beginnings of their careers in the entertainment industry."
He's also a mentor for a Global Teen Leader in Three Dot Dash, a global initiative of the We Are Family Foundation. The initiative supports teens who are actively working on projects to promote a more peaceful society.
"The best thing about my job is meeting new people and creating new relationships," Galinsky says. "I love to connect people with one another and watch new relationships grow and turn into something positive. Everything I do has me talking to both veterans and beginners in the biz."
Looking Forward
As technology continues to expand the possibilities for creative expression and communication, the future of radio and theater promises to be exciting. Galinsky wants to leave his mark. "I plan on being known for changing people's lives through theater, reality TV and the work I do with young people through the We Are Family Foundation."
The most important things in life, though, have nothing to do with technology. "I'm also anticipating watching my son grow up and to see what he brings to life," Galinsky says. "Lastly I'm very excited about the woman I am in love with and see an awesome future with her. As awesome as the present is."
Does Galinsky have any advice for media professionals hoping to make their dreams a reality? Absolutely.
"Also keep doing what you love to do," he says, "no matter how many 'no's you hear, no matter how late you have to work, no matter what!"
Connect with Robert Galinsky at www.galinskyplace.com.