Interview With Media Consultant Sarah Evans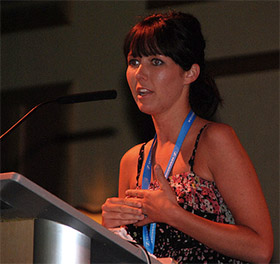 Sarah Evans
Using social media sites used to be synonymous with "procrastination." If you were tweeting, friending, or chatting, you weren't being productive—and you definitely weren't being professional.
Times have changed. Nowadays, any business that wants to be taken seriously is on Facebook, Twitter, or Myspace. And entrepreneurs are using social media to earn money, promote social awareness, and transcend traditional communication methods.
One of these entrepreneurs is Sarah Evans, a public relations and new media consultant who was recently named one of the top 100 most influential marketers of 2009 by Invesp.net. She uses social media in every aspect of her public relations and media consulting career, from virtual client conferences to expert interviews to peer education.
How Does Social Media Fit Into a Career?
Just using social media isn't a job in itself, any more than talking on the phone is a job. Social media allows professionals from practically any field to communicate faster, more efficiently, and with more people than ever before. This can sound a little strange to people who aren't familiar with the Twitterverse and its like.
"Whenever anyone tries to explain what I do, it's confusing," Evans said. "But the people who need me, they get it."
Her career began conventionally enough. "My parents always said get a good job with good benefits," Evans said. "I loved having a great job, but there was always something missing, and that was the entrepreneurial spirit." She was a natural innovator in the workplace. For example, in her first job out of college, she suggested to her colleagues that they use instant messenger to improve communication and be more efficient. "As new technologies because available, I found different ways to integrate them," she said.
Over the years, as Evans built up an online profile, requests for freelancing gigs became more frequent. "At one point the freelancing was pouring in faster than I could keep up with it, and it rivalled the day job," she said. From there, Evans was able to capitalize on her expertise in new media to create a unique career path for herself. In late 2009, she started a consulting company named Sevans Strategy. The company provides media training and online community and communications development, among other services, and is growing fast.
Evans uses her expert knowledge to help other companies achieve their goals in innovative ways. "When Radio Shack launched their newest ad campaign, The Shack," Evans said, "they had me out in Times Square in New York City, doing a live feed of how to use different technologies to stay connected." She's also producing all the social media content for the British Council on an International Summit in Chicago.
As an acknowledged pundit in her field, Evans produces and contributes content to several industry resources. She moderates #journchat, a Twitter resource she initiated for PR professionals and journalists, and is a guest writer for Mashable, one of the most popular social media blogs in the world. On her own blog, she manages a daily resource for PR and social media professionals called Commentz. "Every morning I scan my favorite headlines and feeds and pull all the info together," she said. Commentz helps PR professionals avoid information overload—instead of having to sift through mountains of data themselves, they receive an electronic recap of hot topics and blog posts most likely to generate conversation.
She's found creative ways to make these multiple projects profitable, whether it's by selling ad space or working with sponsors. "Part of what I do is not only finding ways to use these technologies, but to innovate and find ways to monetize, so I can speak as an expert," she said. "I like to launch something, do it well and then show others how to do it."
How Social Media Makes the World a Better Place
For many professionals today, using social media isn't just about having fun or making money. It's about creating positive changes in the real world. "Even in the midst of business and making money, I still want to find a way to give back and raise awareness for causes that need it," said Evans.
She recently worked with a local crisis center to raise over $161,000 in just three weeks. "When the crisis center came to me, the state funding they were promised hadn't come in and in fact still hasn't come in, and they were looking for a way to raise funds," said Evans. "I volunteered to donate my online profiles and to develop a campaign called Crisis Overnight." She partnered with a local video production agency to put together a website (crisisovernight.org) where people could donate, and she also used Twitter, Facebook, and her blog to raise awareness.
The results were astounding. "In the span of 3 weeks, people from across the entire US donated and gave up their time to help," Evans said. "People from all over the community came out to donate in person, and I think part of the excitement was that we were using new tools. Even people who didn't know what Twitter was got excited about the fact we were using a different way to fundraise."
Must-have Technology for Social Media Freaks
If you want to use social media interfaces to their full potential, you need the right tools. Evans carries the essentials with her everywhere she goes. "I always have my Macbook and iPhone with me," she said. "And I love my Snowball microphone—it's great for doing broadcasts and Skype interviews."
Sara's other must-have pieces of hardware include a Logitech webcam, a digital video camera, and mini tripods—"because you never know where you're going to need to set up." Her new favorite toy is her Canon Rebel camera. "With my cell phone, I wasn't always happy with the quality and I couldn't get the photos loaded fast enough, so I carry my new camera with me everywhere," she said. "Having a more active Flickr account is just another way to engage people."
As far as software, Bumptop and Dropbox help Evans stay organized and share files with her colleagues at Sevans Strategy, whether she's in town or traveling across the country to lead a training seminar.
Tweeting Into the Future
The traditional model of work is linear: get a job working for someone else, work hard, get a promotion, rinse and repeat. In the new model, there's no connect-the-dots guide to a successful career. Doing what you love and doing it well may take you places you never imagined.
For PR and communications professionals who want to tap into every available resource, Evans said that both a traditional and a new skillset will serve you well. "Knowing how to work with media, understanding community relationships, and being a natural connector are all important," she said. "Some of those are skills you can't teach, but they translate well no matter what platform you're using."
A strong grasp of social media and other emerging technologies can also help you fulfil your personal mission, whatever that might be. "I love to organize people around a cause, an idea, a movement, a product," Evans said. "Things move fast in this world. There's an opportunity to mobilize people in a faster way. It does exactly what my personal mission is, but now there are new tools to do that in a new way."
As emerging technologies become mainstream, they lose their initial glamor, but they also become more useful. "If I look at what my career was like even five years ago, my entire workday has changed because of technology," Evans said. "And I think in the near future it'll stop being referred to as 'social media.' Everyone will integrate some form of online communications into their daily workflow." She added, "But I don't underestimate the power of face-to-face and email and phone and all of that. They're all just different ways to accomplish your goal."
Sarah Evans can be found at prsarahevans.com.