Von Babasin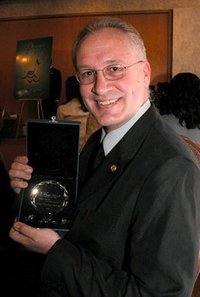 Von Babasin
Von Babasin is a longtime maven of the film and music industries. From composing and playing jazz to working in all aspects of film and video production, he feels at home with both artistic mediums. His current documentary project, Harry Babasin's Jazz In Hollywood, focuses on the life and career of his father, a prominent bassist and producer who was instrumental in defining the Hollywood jazz scene of the 40's and 50's. In a recent phone interview, Von Babasin generously shared his insights on working in the industry, producing documentary films, and experiencing the creative journey.
Insider Tips for Success
Breaking into the industry is the obvious first step, said Babasin, but not always easy. He attributes his early experiences to good timing and hard work. "I was lucky enough to be hired at Universal at a time when they were producing so much film and TV that they needed people virtually off the street," he said. "I had enough of a background and worked hard enough that I got my foot in the door quickly and easily."
Babasin worked for Universal Studios for over 8 years, an unusual track record during a period punctuated by frequent layoffs. "But I worked my butt off, and they kept me going," he said. "I got into the special effects business, and it was really beneficial for me."
In the film and TV industry, there's no standard career track. "I've heard good things about going to film schools, but even that's a tough nut to crack," said Babasin. "You can have all the schooling in the world and still not get that inroad."
Schooling in itself may not be enough to land you a job, but sometimes formal education can lay the foundation for future professional relationships. Babasin recalled how taking a film class at the Learning Tree University in Los Angeles led to a job. "The teacher was a director, and a couple years later I ended up not only working on the film but also doing the soundtrack," he said. "So you just never know what relationships you'll strike up that will help you in the future."
How to Acquire Funding for Creative Projects
For independent filmmakers, acquiring funding is a necessary route to production. "Right now, I'm pretty much consumed with seeking the funding for the documentary's production budget," Babasin said. "I search every database I can find to find funding."
He recommends the New York Foundation for the Arts (NYFA), a non-profit that gives more support to artists than any other private organization nationwide and is providing fiscal sponsorship for Babasin's documentary. "To be involved with an organization like NYFA is invaluable," Babasin said. "Their hall of fame has people like Spike Lee, and Oscar and Tony and Emmy and Pulitzer prize winners, so they're definitely a good organization to get involved with. There are other art foundations that offer that kind of support too, where you can fiscally raise funds under the umbrella of their non-profit status."
Where to Find Killer Content for Documentary Film
EBay's not just a place to sell your pet rock collection or score vintage clothing. Babasin uses the auction site to acquire one-of-a-kind images for his documentary film.
"Because [Harry Babasin's Jazz In Hollywood] is a documentary, most of the content is still frames: magazines, reviews, album art, and so on," he explained. "EBay is an amazing resource for me. Not long ago I accidentally came across a promotional photo from the 1947 movie A Song is Born. It was from the recording studio with all the musicians recording the soundtrack."
The photograph depicts Harry Babasin along with other well-known performers such as Louis Armstrong, Lionel Hampton, Tommy Dorsey and Benny Goodman. "He's right in the middle of the photo and he's fully facing the camera," said the filmmaker. "I couldn't have posed it better. It was wonderful, so we bought it."
The One Tool All Film Editors Should Own
When asked, "What's the one software program you couldn't live without?" Babasin answered without hesitation: "Final Cut Pro. That's what I'll probably compile the entire movie on." Apple's world-class software enjoys a well-deserved reputation as the industry standard for professional editors.
For an artist with a packed schedule, like Babasin—who balances film production with performing as a professional bassist and running two websites—the time-saving improvements and intuitive collaborative options in Final Cut Pro come as a boon. "My older brother's actually going to be working with me [on the documentary]," said Babasin. "He's like a Mac wizard! He'll be helping with graphic arts and photo restoration." Whether working with a family member or a virtual assistant on the other side of the globe, the Final Cut interface lets collaborators can share ideas and assets efficiently, speeding up the creative process.
Keeping your technical skills up-to-date is important. As a voting member of the non-profit Film Independent, Babasin takes advantage of the educational resources offered by the organization. "They offer classes, seminars with directors and independent filmmakers—they can be an invaluable help to carry you through the process if you need it," he said. "They'll probably have a class on the newest version of Final Cut, so I'll go to that just to brush up."
The Creative Journey is the Destination
Whether you're working with film, video or other media, the creative journey can help you grow in directions you never predicted. Babasin expressed a deep appreciation for the associations he's made in the pursuit of his goals. "I've talked to jazz historians around the United States," he recalled. "I got a chance to talk to Phil Schaap, one of the most renowned jazz historians in the nation—he knew specific contributions that my father had made and was really effusive about his cello work. So my high point on this journey right now is talking to people on that level of cultural awareness who really appreciated what my father did."
A deep understanding of the underlying mission is also crucial. Despite the challenges of acquiring funding, overcoming technical hiccups, and making time for his personal life, Babasin never loses focus. "I know that what I'm doing is good," he said, "for the aesthetic nature of the world, in my music, in filmmaking, in ensuring a place in history for my father and his contributions, and in helping to define the artistic movement of west coast jazz and all those amazing musicians that took part in our rich American musical culture."
Learn more about Von Babasin at onoffon.com or jazzinhollywood.com.