WM Recorder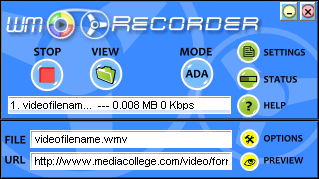 WM Recorder is a utility for capturing video and audio streams on the Internet. It is a simple but powerful appliation capable of recording just about any video stream you can find.
Features include:
Automated recording and scheduler
File converter option
Record multiple streams simultaneously
Resume interrupted recordings
Split and merge recordings
Works with connections of any speed
Supported formats include:
Windows Media™
Real Audio™ and Real Video™
Flash Video (FLV)
MPEG
QuickTime™
Streaming MP3 (Shoutcast™)
Download
You can purchase WM Recorder from www.wmrecorder.com. A free 30-day demo version is available for download at www.wmrecorder.com/demo.php.
Note: WM Recorder is a joint project between All Alex Inc and Applian Technologies Inc.