Zebra Stripes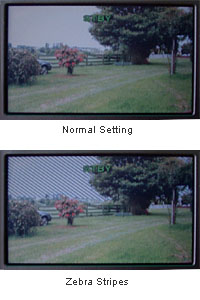 Zebra stripes, or zebras, are a feature of professional cameras which give an indication of exposure levels. When activated, diagonal lines appear across any part of the picture which is approaching over-exposure. These lines appear only in the viewfinder — they are not output from the camera or recorded.
To Set Up the Zebra Stripes
Turn the zebra stripes on. There should be a switch or menu item labelled "Zebra Stripes".
If the camera has the option to change between different zebra settings (eg 75% or 100%), make sure you know which setting you're using, and the resulting effect.
Use the zebras to guide your iris settings. In general, a small amount of zebras on the hottest part of the subject is desirable. Practice and experiment with this feature.
Be aware that zebras aren't foolproof — they should be used as a guide only.