Adobe Premiere Pro vs Apple Final Cut Pro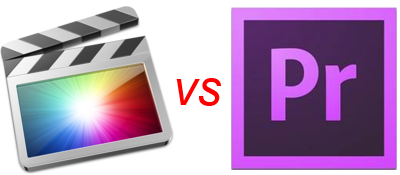 The top spots in mid-level video editing are (arguably) held by Apple and Adobe, and many people are looking for a specific comparison between Premiere Pro and Final Cut Pro (FCP).
Traditionally FCP has been more popular amongst professional editors, although this can also be attributed to the popularity of Mac vs Windows in the same market. For a number of years Premiere was only available on the PC and FCP only available on the Mac. From version CS5 Premiere Pro was again available for the Macintosh.
It is often said that FCP is more stable and/or faster than Premiere, but this may have been more a reflection on the operating system than the software, dating back to the days when Windows was noticeably less stable than Mac. In my experience Premiere has been very stable on Windows systems since at least Windows XP.
Both Premiere and FCP are standalone video editing applications, and both are available as part of larger software bundles. The bundles are highly recommended in both cases, giving you much more power and flexibility over things like audio, graphics, etc.
One fact in Premiere's favor that is that it integrates very well with After Effects (video compositing) and Photoshop (for graphics). Both these products are very highly regarded, industry standard software. When purchased as part of a software bundle, Adobe products form a seamless package that operates almost like a single application.
Other than that, the practical differences between Premiere and FPC were relatively minor up until the release of Final Cut X in 2011. It's also worth noting that when one application had a feature the other lacked, the gap was often closed in the next round of releases. So as a general rule, don't base your decision on a feature of one product unless you are sure it isn't going to be introduced or upgraded by the other product in the near future.
Before Final Cut X I would have said that if you want the best and money is no object, FCP was probably the way to go. However there hasn't been much to split them for many years, and for a long time you've been able to get essentially the same functionality from Adobe for less money. This is especially true if you already owned a PC capable of running Premiere but would have to buy new hardware for FCP.
Since Final Cut X the decision has become somewhat easier. If you're a serious video professional, Final Cut X is unlikely to meet your needs as it lost many critical features required by pros. Moreover, Apple has shown little regard for the professional community in recent years, the Mac Pro looks to be in trouble, and there is much speculation that Apple is abandoning the professional market in favor of its consumer products. In the past it would have been a brave editor who favored Adobe over Apple, but since Final Cut X many have come out publicly in support of Premiere Pro.
On the other hand, if you're a hobbyist and don't need the professional features, FCX is still worth a look. It's unlikely to be worth buying an Apple computer just for the editing, but if you already own a Mac then it's a viable option.
Summary
FCP was more the "professional's choice" than Premiere, until Final Cut X in 2011. Now Premiere is considered more professional.
Premiere has the advantage of association with After Effects and Photoshop.
FCP is in a precarious position and we're all waiting to see whether it can bounce back from the FCX debacle.
Both applications have free trials available!
Author:
Dave Owen
, Originally published: 2011-11-03, Last updated: 2012-06-21