Digital Betacam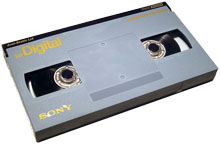 Digital Betacam, AKA Digibeta or D-Beta, was introduced by Sony in 1993 as a replacement for the analog Betacam SP format. Digital Betacam was superior in performance to DVCam and DVCPro, while being cheaper than D1.
Digital Betacam attracted a fair amount of professional support but didn't go as far as to become an industry standard like it's predecessor.
Cassette sizes are the same as other Beta versions: S (small) tapes record up to 40 minutes, L (large) tapes record up to 124 minutes. Cassettes are light blue.
Digital betacam records component video with 10-bit YUV 4:2:2 compression. PAL resolution is 720x576, NTSC resolution is 720x480. The bitrate is 90 Mbit/s. There are 5 audio channels — 4 main channels (uncompressed 48KHz PCM) and 1 cue track.
Some Digital Betcam equipment is backwards-compatible with Betacam and Betacam SP.