How to Look After Cables
Cables (AKA leads, cords) and connectors are often the most neglected components of audio-visual systems. However, any system is only as good as the weakest connection or most damaged cable.
We have devoted a page to cable care for two simple reasons:
It is so vitally important.
It is so badly misunderstood, yet so incredibly easy.
Save yourself grief and money by obeying a few simple rules...
Always unplug cables by holding the connector, not the cable itself.
If a cable doesn't unplug easily, look to see if it has a locking mechanism.
Be careful to plug up multi-pin connectors correctly. If it doesn't want to go in, don't force it - you're probably doing something wrong. Many connectors have indicators to show which way to plug them in.
Avoid stepping on, driving over, or putting heavy objects on cables.
Where possible, don't run cables across high-traffic pathways (eg. where people will be walking).
Avoid getting kinks in cables, eg. by shutting them in doors, or folding them.
Always wind cables up correctly for storage. Most cables should be "back-wound".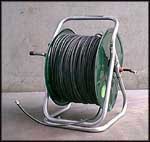 Very long cables can be rolled onto a specially-designed cable drum. This makes winding much easier, and protects the cable from kinking etc.
This cable drum was made by adding some reinforcement to a standard garden hose drum. One end protrudes from the drum's axis, so that the entire cable doesn't have to be unwound to use it.