Mid Shot (MS)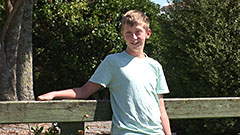 The mid shot shows some part of the subject in more detail, whilst still showing enough for the audience to feel as if they were looking at the whole subject. In fact, this is an approximation of how you would see a person "in the flesh" if you were having a casual conversation. You wouldn't be paying any attention to their lower body, so that part of the picture is unnecessary.
The MS is appropriate when the subject is speaking without too much emotion or intense concentration. It also works well when the intent is to deliver information, which is why it is frequently used by television news presenters. You will often see a story begin with a MS of the reporter (providing information), followed by closer shots of interview subjects (providing reactions and emotion).
As well as being a comfortable, emotionally neutral shot, the mid shot allows room for hand gestures and a bit of movement.