Shooting People at Weddings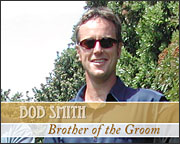 Weddings are all about people. Although the event itself determines the overall flow of the video, in years to come it will be the appearance of people which leaves a lasting impression. In some cases the wedding video will be the best (or only) video footage of people who have passed away.
It is absolutely critical that you have a plan to capture all the important people on video. Talk to the bride and groom and make a list. If you don't know the family and friends well, organize to have someone help you identify people on the day.
During the ceremony it should be fairly easy to get the main participants. Include shots of each of the bridal party. The closest family members are usually in the front seats.
The best place to make sure you have shots of everyone is at the reception, when you have more time and the guests are more relaxed. Be careful — don't assume that everyone will be there all night. For example, sometimes an elderly relative will be taken back to the rest home before or immediately after dinner. You need to know about this before hand.
Interviews
Interviews are a great way to capture people. People often comment that interviews are the best part of the video, especially after many years have gone by.
Keep it casual. You can approach people at tables and ask them questions like:
How was the meal? (this sort of question is a good warm-up — you don't need to include it in the edit)
What did you think when you learned John and Jane were engaged?
What makes them a good couple?
Where do you think they will be in ten years?
Don't forget to interview the bride and groom. It's actually a good idea to do this before the wedding and take some time getting it right. You can interview them together and/or separately. A nice trick is to get separate interviews with the same questions and mix them together in the edit. For example:
How did you meet?
What attracted you to him/her?
What do you love most about him/her?
Where do you see yourselves in ten years?
More Tips
Be aware of people who don't like being filmed. Don't force yourself on unwilling subjects or make people uncomfortable.
Discretion is often the key. While some shots require you to be in people's faces, sometimes it's a good idea to position yourself far from the subject and zoom in, so they aren't as aware of the camera. Of course you need to be respectful when doing this and don't shoot things which would be considered private.
Don't shoot close-ups of people eating. If you want to cover the meal (and it's a good idea to do so), get close-up shots of the food being served and wide shots of the whole room dining, so individuals aren't featured strongly.
Be wary of shooting drunks. In some cases it's fine, in other cases it's not. Ask the bride and groom if you're not sure.
Avoid shots which show a large number of people from behind, i.e. the backs of their heads. Avoid close-ups of the backs of heads.