Wedding Video Tutorial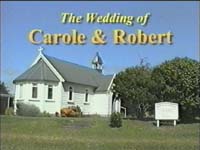 This tutorial covers all aspects of wedding video production, from planning to editing. It is suitable for anyone with moderate camera skills who wants to learn how to make a good wedding video. We will assume that you are interested in producing professional wedding videos but the tutorial is applicable to amateur video as well.
---
The key to making good wedding videos is to know the format. Whether it's a casual back-yard ceremony or an epic cathedral occasion, there is always a format. This brings us to a familiar theme: The most important phase of the coverage is the planning.
First we will look at how to cover weddings in general, then how to create a specific plan for each wedding video. From there we will discuss shooting and editing tips.
Next Page: Coverage