Premiere — Master Meters Only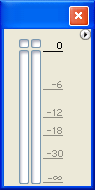 NOTE: This only applies to Premiere Pro versions 1 through 2. Since the interface was revamped in CS3, the audio mixer and master meters can be independently turned on or off.
If you want to have a visual audio meter in Premiere but find that the mixer window takes up too much space, you can use the master meters only option.
In the top right corner of the mixer window, click the flyout menu button and select Master Meters Only. This replaces the large mixer window with the much smaller window pictured right (this illustration is actual size).
This window does not offer any input functionality — it is a meter only.
To return to the full-sized mixer window, go back to the flyout menu and select Audio Mixer.