Premiere Audio Mixer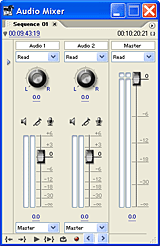 The audio mixer in Adobe Premiere is designed to be a visual representation of a real sound mixer. It features familiar sliders (faders) for each audio channel (track), sub-mixes and a master fader. The window width can expand to accommodate all the channels in the timeline.
The mixer window does not appear in any of the default workspaces except Audio. For this reason many new Premiere users are not even aware of it's existence.
To view the audio mixer select Window > Audio Mixer from the menu.
Do You Need the Audio Mixer?
The audio mixer is basically another way to do the same things which can be done with audio keyframes and other tools. Whether or not you use the mixer depends on your preference. Because the mixer window takes up quite a bit of room, many users choose not to use it.
However, even if you don't use the mixer for it's functionality, it is a very good visual metering tool and you will probably find it helpful to keep an eye on audio levels this way. If you don't have enough screen space for the mixer window, you can use the master meters only option.
What Exactly Does the Mixer Do?
The mixer window has a number of functions, including:
Adjust levels of individual tracks during playback (for monitoring only)
Adjust levels of individual tracks and save the new settings (known as automation)
Use effects/send channels
Pan tracks left and right
Set up submixes
Solo and mute individual tracks
Control playback of the timeline
Record input sources directly to audio tracks