Adobe Soundbooth CS3 Overview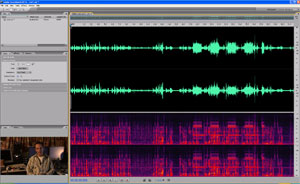 Adobe Soundbooth is an audio editing application compatible with standalone audio files (e.g. WAV, AIFF, MP3, WMA) as well as video/audio files (e.g. AVI, MPEG-2, H.264, RealVideo, FLV). Adobe is promoting Soundbooth as the application of choice for those working with video and multimedia files.
Soundbooth was released in mid 2007 as part of the Adobe Creative Suite.
What is Adobe Soundbooth?
It is single-file audio editor (you can open multiple files but only work on one at a time).
It has a task-oriented interface, geared toward improving video sound and fixing common problems.
It works with mono, stereo or multi-channel (interleaved) audio files, including the audio component of video files.
Features
Tools are easy to use for those who aren't audio specialists.
Easy to fix common problems (e.g. removing unwanted sounds).
Integrated video monitor.
Music library and customization.
Integration with Premiere Pro and Flash.
See also: