Canon XL-2 Digital Camcorder Kit
User Manual

To download the operating manual, right-click the download icon and select "Save As" (or "Save link as", "Save target as", etc).
If you're happy with the manual, a small
donation
would be very much appreciated. Thanks!
Features
Professional 3-CCD DV camcorder with open architecture design for cinema attachments
20x optical zoom lens, XL interchangeable lens system
Color viewfinder, interchangeable with optional professional monochrome viewfinder
16:9 widescreen and 4:3 ratio, 3 selectable frame rates: 60i, 30p, and cinema 24p
Powered by rechargeable lithium-ion battery pack
From the Manufacturer...
The Canon XL2 allows you to capture images closer to the finished product than ever before. Work that previously was limited to post-production can be simply and effectively accomplished in the field, in the camcorder. An Open Architecture philosophy, performance found only in much more expensive video cameras, Total Image Control and the solid foundation of Genuine Canon Optics, interchangeable lens capability and superb Canon image processing quality are united in the XL2.
The XL2 brings a host of performance and convenience features to this class of video camcorder- benefits that can't be found in this combination on other high-end video cameras. They include: Canon Super Range Optical Image Stabilization in the standard lens; dual aspect ratios; various frame rate capabilities; image gamma and detail controls; skin detail control and convertible LCD display and among others.
Unprecedented image control coordination between two XL2 cameras, remote computer camera control and direct video recording to computer are just a part of the capabilities of the XL2. Never before has so much creative power been put in the hands of the film maker, video artist, and corporate and event videographer.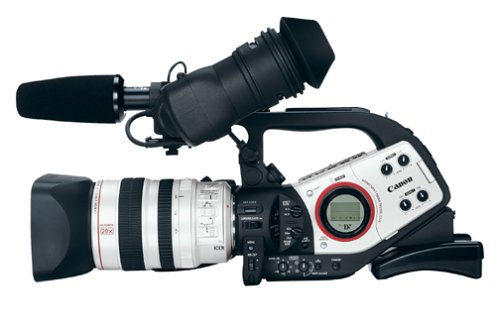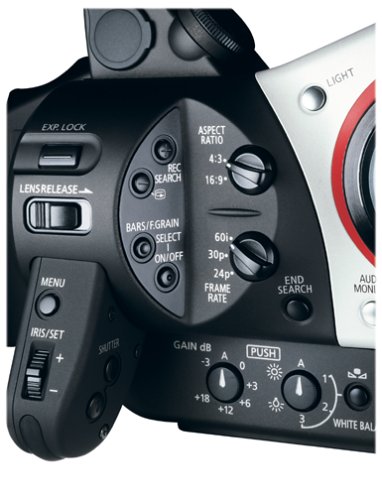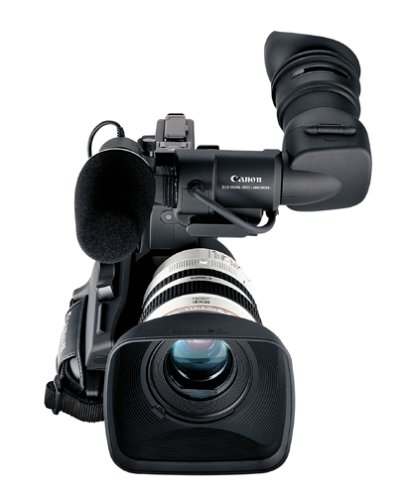 Specifications
| | |
| --- | --- |
| Television System: | EIA standard (525 lines, 60 fields) NTSC color signal |
| Video Recording system: | Two rotating heads, helical scan azimuth recording, DV System (Consumer digital VCR SD system) digital component recording |
| Audio Recording system: | PCM digital recording: 16 bit (48 kHz/2 channels); 12 bit (32 kHz/4 channels) Synchronous 4-channel recording is possible |
| Image Sensor: | Size 1/3", approx. 680,000 pixels (total), Progressive Scan CCD x3 (charge-coupled device) with horizontal pixel shift |
| Tape Format: | Video cassettes bearing the MiniDV mark |
| Tape Speed: | SP: 0.74 ips (18.81mm/second), LP; 0.49 ips (12.56 mm/second) |
| Fast Forward/Rewind time: | Approx. 2 minutes and 20 seconds (using 60-minute tape) |
| Lens Mount: | XL interchangeable lens system |
| Focusing System: | TTL autofocus. Manual focusing possible (20x zoom XL 5.4-108mm L IS installed) |
| Minimum Focusing Distance: | 20mm (Wide macro), 1m (entire zoom range): (20x zoom XL 5.4-108mm L IS installed) |
| Maximum Shutter Speed: | 60i, 30p, 24p (2:3 & 2:3:3:2) |
| Minimum Illumination: | Approx. 5.5 lx (20x zoom XL 5.4-108mm L IS installed, auto mode, 60i frame rate, 4:3 aspect ratio, 1/60th second shutter) |
| Recommended Illumination: | More than 100 lx |
| Filter Diameter: | 72mm (XL lens) |
| Viewfinder: | 2.0-inch TFT color LCD; Approx. 200,000 pixels, RGB delta configuration |
| Microphone: | Stereo electric condenser microphone |
| Number of Recording Pixels: | 16:9 target area: approx. 460,000 pixels (962 x 480) x3 CCD, 0.289" diagonal; 4:3 target area: approx. 350,000 pixels (720 x 480) x3 CCD, 0.236" diagonal |
| DV Terminal: | 4-pin connector (complies with IEEE1394); input/output switching |
| Video Terminal: | RCA pin jack; input/output switching/BNC jack; input/output switching 1 Vp-p/75 ohms unbalanced |
| Output Levels: | Max. -10 dBv (for 47 kohm load)/3 kohm unbalanced |
| S-video Terminal: | 4-pin mini-DIN; input/output switching 1 Vp-p/75 ohms (Y signal), 0.286 Vp-p/75 ohms (C signal) |
| Audio Terminal: | RCA pin jack (L/R) 2 systems; input/output switching |
| Input Levels: | During input; Min. -10 dBv/47 kohms unbalanced |
| Microphone Terminal: | 3.5mm stereo mini-jack unbalanced -55 dBv (Auto), -67 dBv (Manual/Vol Max)/600 ohms |
| Operating Temperature range: | 32-104° F (0-40° C) |
| Power Supply: | 7.2V DC (battery pack) |
| Power Consumption: | 7.1W (recording with AF, 20x zoom XL 5.4-108 L IS mounted) |
| In the box: | XL2 Camcorder Body, Zoom Lens 20x zoom XL 5.4-108mm L IS, Color Viewfinder, Lithium Battery (for Auto-Date), WL-D4000 Wireless Controller, Two R03/AAA Batteries (for Wireless Controller), Lens Cap, Lens Dust Cap, Lens Hood, Lens Soft Case, Camcorder Dust Cap, CA-920 Compact Power Adapter and Adapter Holder, AC Cable, DC-920 DC Coupler, BP-930 Battery Pack (with Terminal Cover), SS-1000 Shoulder Strap, STV-150 Stereo Video Cable, S-150 S-Video Cable, Microphone, XL2 and Lens Instruction manuals |
| Width: | 8.9 inches |
| Height: | 8.7 inches |
| Length: | 19.5 inches |
| Weight: | 5.3 pounds (not including lens and battery pack) |