JVC GR-SX850U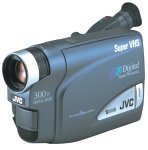 Features
Super VHS-C format with playback adapter
16x optical, 300x digital zoom
Electronic image stabilization
High-resolution color LCD
Fade and time-lapse options
Product Description From Amazon.com:
The JVC GR-AX850U offers many of the same useful features and options as the JVC GR-AX750U VHS-C format camcorder. The one important difference is that it features a high-resolution color viewfinder. The picture stabilizer gets rid of annoying picture shake. The GR-AX850U also offers 300x variable-speed digital zoom triggered by finger pressure with numeric zoom ratio readout in the viewfinder/monitor.
The JVC GR-AX850U includes a battery pack with a shooting capability of up to two hours. The camcorder has seven programmable auto exposure modes and digital special effects. The title generator features eight preset messages in English, Spanish, French, and Portuguese.
A time-lapse capability allows you to record at preset intervals to catch slow motion action such as plant growth or cloud movement. You can also record in a special animation mode that creates the illusion of movement for an otherwise stationary scene when you shoot a series of slightly different poses. For editing features, the JVC GR-AX850U offers digital wipes and fades, as well as a black fader and a quick review and retake function. The accessories include a shoulder strap, compact VHS cassette playback, and battery recharger.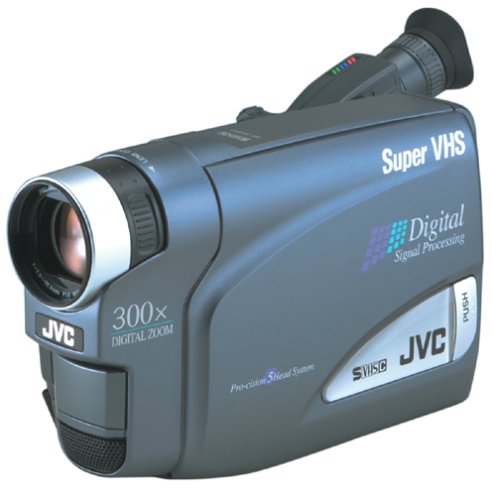 Specifications
| | |
| --- | --- |
| Video format: | S-VHS-C |
| Progressive scan CCD: | No |
| Flying erase heads: | No |
| Eyepiece viewfinder: | Yes |
| LCD screen size: | N/A |
| LCD swivel: | N/A |
| Aperture: | f/1.6 |
| Filter diameter: | 40.5 millimeters |
| Optical zoom: | 16x |
| Digital zoom: | 300x |
| Programmed exposure modes: | 7 modes |
| Auto light: | Yes |
| Hot shoe for external light: | No |
| Black and white: | No |
| Sepia: | No |
| Solarized: | No |
| Image stabilization: | Yes |
| Infrared capability: | No |
| Remote included: | No |
| Digital camera capability: | No |
| Included still memory: | N/A |
| Preset titles: | Yes |
| Custom titling: | Yes |
| Programmed recording: | Yes |
| Fade options: | Black fader |
| Special effects: | Wide mode, tele macro, time lapse, and animation |
| Motion sensor: | No |
| Audio sensor: | No |
| Other special features: | Quick review and retake, digital wipes and fades, digital auto tracking |
| IEEE 1394 output: | No |
| Connections: | Audio-video |
| S-Video output: | No |
| Included in box: | Shoulder strap, compact VHS cassette playback, battery recharger |