HDBaseT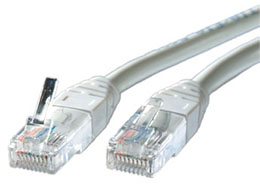 HDBaseT is a connection system announced in 2009 and finalized (v1.0) in 2010. The system supports the transmission of uncompressed HD video, audio, 100BaseT Ethernet, and 100W power through a single CAT5e/6 cable with RJ-45 connectors. The maximum length is 100m (328'), with up to 8 boosted hops.
HDBaseT is intended to replace HDMI which is limited to video and audio, over much shorter distances.
Features & Specs
| | |
| --- | --- |
| Uncompressed video/audio: | Up to 10.2Gbps, potentially scalable up to 20Gbps |
| Maximum cable length: | 100m, with multi-hop support up to 8 x 100m |
| Cable: | Cat5e/6 LAN cable |
| Connector: | RJ-45 |
| Charging power: | Up to 100W |
| Other features: | USB, Daisy Chain, Network-capable (100BaseT Ethernet, potentially scalable to 1 GigE), Remote input controls (e.g. mouse/keyboard) |
Video
This video features a demo of the HDBaseT "5Play" system (i.e. HD video, audio, power, data and control).
History
HDBaseT was announced by developer Valens Semiconductor in 2009. The HDBaseT Alliance was incorporated in June 2010. Along with Valens, the alliance included Samsung Electronics, Sony Pictures Entertainment and LG Electronics. HDBaseT is expected to ship embedded in home entertainment products in late 2010.