Set Up Your Video Email System
To create a video file you will need three things: a camera, microphone and recording (capture) software.
Camera

In most cases a simple webcam is all you need although you can use a digital camcorder if you like. The camera will typically plug into your computer using a USB or Firewire connection. Consult your instruction manual for details. If you don't have any instructions, just plug the camera in — there's a good chance your computer will detect and install it automatically.
Microphone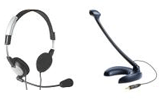 If your computer or monitor has a built-in microphone you might find this the easiest solution, although external microphones usually provide better audio. An external mic usually has a 3.5mm minijack connector which plugs into your sound card (near the speaker connection). Some computers have front connections for convenience.
If you use a camcorder, you can probably use the built-in mic.
Software
As well as the hardware, you need some software to record (capture) video clips. There are three main options:
Your camera may have capture software included
You can purchase specialist capture and editing software
You can use the free software which comes with your operating system (e.g. Windows Movie Maker for Windows, iMovie for Mac)
---
Next Page: Record a Video Clip