The Webalizer
Website: www.mrunix.net/webalizer
The Webalizer (commonly referred to simply as Webalizer) is a free web statistics package, written in C, distributed under the GNU General Public License. It can work from the command line or as a CGI script with browser interface.
The Webalizer is a popular package with a long history. It provides a simple and user-friendly web interface. The main page includes a summary graph and tabled monthly statistics with links to more detailed stats for each month.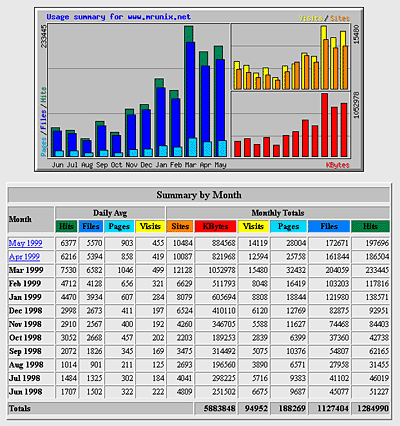 The server admin can configure the package (using a text config file) to customize reports, e.g. adjust the number of top visitors shown.
The Webalizer has a very easy interface with a nice simple layout. The initial summary page is small enough to be fast-loading but still contains enough useful information for a casual statistics inspection. This is great for newbies or those who don't want to be bombarded with too much information.
The monthly display options are fairly limited and it is difficult to display advanced statistics. Those needing an easy way to view a lot of detail may get frustrated.
On the whole, The Webalizer is a solid and reliable log analyser which is suitable for most mainstream users. Those with high demands may need something more advanced but most webmasters will be happy with the information provided.
Author:
Dave Owen
, Originally published: 2006-08-10, Last updated: 2007-12-28