Photographic Lenses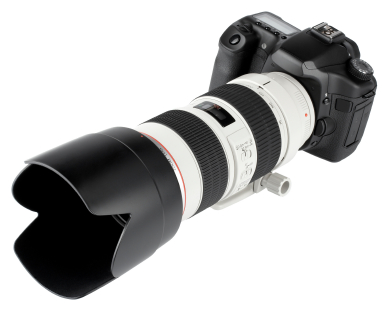 DSLR camera with telephoto lens 70-200 mm, F2.8.
One of the major advantages of an SLR over a compact digital camera is the ability to change lenses. Lenses come in a variety of shapes and sizes, and give the photographer a wide range of choices. Focal length is one of the main considerations when choosing a lens, but there are also other factors to consider such as autofocus speeds and maximum apertures.
Many photographers find the choice of lenses daunting, but when you understand what each type of lens offers things become a lot clearer. One of the main things to consider is the type of photography you prefer, and which subjects you enjoy working with. For example, a landscape photographer is more likely to benefit from wide angle or prime lenses. A sports photographer will need fast zoom lenses which offer high magnification and effective auto-focus.
Zoom lenses offer great flexibility, and most modern digital SLR cameras come with a zoom as standard. However, prime lenses such as 35mm and 50mm focal length are great value and shouldn't be overlooked. Prime lenses are super sharp, and usually have a wide aperture. They are ideal for portrait photography, and the wide aperture means you can use depth of field to isolate your subject. Prime lenses are also fantastic for landscape photography, with their superior optical quality and ability to work in low light.
So called 'superzooms' offer great convenience, and typically cover a focal length range from 18mm to 200mm. Superzooms are great if you need to travel light, and they allow you to react to shooting opportunities immediately rather than having to change lenses and miss a shot. Quality of superzooms has improved massively in recent years, and new technology means they are sharper and lighter than ever.
Telephoto zoom lenses are great for sports enthusiasts and nature photographers. They allow you to get close to your subject from a safe distance. A typical telephoto zoom will offer a focal length range of 75mm to 300mm. Due to the high magnification factor, it's best to mount the camera on a tripod or use a monopod to ensure sharp images when using telephoto zooms. Modern lenses have optical stabilisers which help to reduce the risk of camera shake.
Macro lenses open up the world of close-up photography, and are a great addition to your equipment. A true macro lens is one that can capture frame-filling images of subjects that are the same size as the sensor itself. Macro lenses with wide apertures offer the greatest flexibility, and can be used for general photography as well as macro work. Focussing is critical when working in close-up photography, so mount the camera on a tripod and switch to manual focus for the best results.
Ultra-wide angle and other specialist lenses can produce amazing pictures, but come at a cost. Fisheye lenses can produce some highly original images, but think how often you will use them before making the investment. There are ways of replicating the effects of specialist lenses in photo editing software, and this is great way to experiment with different techniques.
See also: Lens structure