Google Videos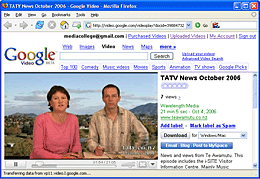 Google Videos was a popular free video hosting service in the mid-2000s. In much the same way as YouTube and other similar sites, Google Videos allowed users to upload video files and make them available for the public to view. You could also embed Google Video clips on your own website.
The Google Video service was launched as a beta version in early 2005. It was sparse at first but by the end of the year it had an impressive catalogue, including many commercial videos and television programs.
In October 2006 Google announced that it was acquiring the YouTube website. Predictably this meant that Google's focus shifted to concentrate on the much more popular Youtube brand and leave Google Video somewhat in the background. Google Videos eventually moved all its video content to YouTube and closed in August 2012.
Uploading Videos
Videos could be uploaded to Google Video in many common formats, including AVI, ASF, QuickTime, Windows Media and MPEG formats.
Google recommended that files be at least 12 frames per second with a bitrate above 260 Kbps, and if possible, use the following properties:
MPEG4 at 2 mbps (mp3 or mp4 audio)
MPEG2 at 5 mbps (mp3 or mp4 audio)
30 frames per second
640x480 resolution
4:3 aspect ratio
De-interlaced