YouTube Video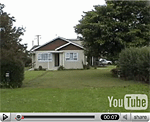 YouTube (www.youtube.com) is a hugely popular video sharing and social network website. The site allows you to create and upload your own video files and either share them privately with friends or make them public.
One of the reasons YouTube has become so popular is that it is relatively easy to create an account and begin uploading videos. Having said this, the help files at the site only provide very general instructions. If you are new to publishing videos online, or if you would like to make better YouTube videos, we hope these tutorials will help.
For general help making videos and publishing them on websites, see our video and Internet tutorials, or visit or discussion forums.