Saving YouTube Video Clips
Copyright
First of all I need to mention the terms and conditions related to downloading YouTube video files. The complete TOS document can be found here: www.youtube.com/t/terms
The relevant clauses are 4 and 5 — Intellectual Property Rights and User Submissions. The excerpt below is directed at video publishers:
You also hereby grant each user of the YouTube Website a non-exclusive license to access your User Submissions through the Website, and to use, reproduce, distribute, prepare derivative works of, display and perform such User Submissions as permitted through the functionality of the Website and under these Terms of Service.
This seems to indicate that visitors can download and use video clips as they please. However, the crucial phrase is "as permitted through the functionality of the Website". YouTube does not currently offer any obvious way to download files, so it could be argued that downloading other people's files is against the terms. On the other hand, simply by viewing the videos you are downloading them to your computer, so it could be argued that viewing videos and downloading them are the same thing.
In any case, the terms do not explicitly forbid downloading and saving files. I suggest that you review the terms yourself, and if you are unsure whether your intended use is acceptable, contact the YouTube managers for clarification.
Saving Videos
YouTube defines "saving" a video files as adding it to your favourites. This allows you to save a record of the files and create playlists for your reference (and sharing with others). To use this feature:
Sign up as a member if you haven't already.
Click the

Add to Favourites

link underneath the videos you want to save.
Use your account functions to create playlists.
Of course this doesn't save a permanent local copy of the file — it is designed to be used at the YouTube website.
Downloading Videos
As mentioned, YouTube does not offer any simple method to download videos clips. There are several ways to do it — here are a few suggestions...
(1) Find the file in your temporary internet files folder
After visiting the web page and viewing the video, find the temporary file which is saved in your cache. For example, if you are using Windows XP, look in C:\Documents and Settings\User\Local Settings\Temporary Internet Files. The file will have a random name but it will be an FLV file with a youtube URL, as per the example below: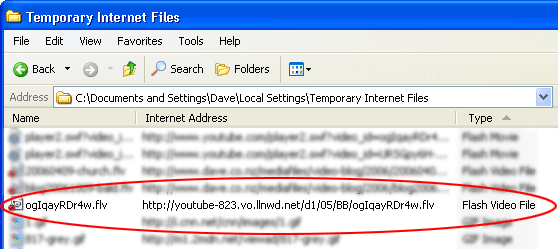 Copy or move this file to another folder and rename it to something more useful.
(2) Access the file directly
Visit the web page containing the video and view the HTML source (select View > Page Source or View > Source). In the HTML code, search for the following snippet:
player2.swf?video_id=
This snippet will be followed by a long string of characters. Copy this string, and add it to the end of the following URL:
http://www.youtube.com/get_video?video_id=
You should have something that looks like this:
http://www.youtube.com/get_video?video_id=_NCYxfMv5po&l=53&t=OEgsToPDskIWrL
kuu29pAmCh6QHkha6A&s=4AE11F3EED7B21F9:53C662DC848F75CD
Copy and paste this URL into your browser's address bar and hit enter. You should then be prompted to save the file.
(2) Use a Browser Extension
There are extensions available for the Firefox browser which allow you to download videos from YouTube, Google and other sites. Do a search for "download flv browser extension" for some examples.