Tracking Shot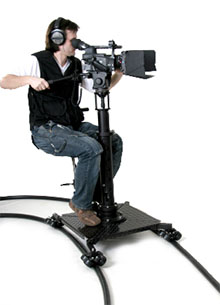 The term tracking shot is widely considered to be synonymous with dolly shot; that is, a shot in which the camera is mounted on a cart which travels along tracks.
However there are a few variations of both definitions. Tracking is often more narrowly defined as movement parallel to the action, or at least at a constant distance (e.g. the camera which travels alongside the race track in track & field events). Dollying is often defined as moving closer to or further away from the action.
Some definitions specify that tracking shots use physical tracks, others consider tracking to include hand-held walking shots, Steadicam shots, etc.
Other terms for the tracking shot include trucking shot and crabbing shot.