Summary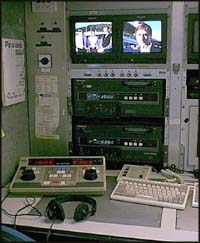 Professional linear edit station (
more info
).
Linear editing is a legacy technique, left over from the early days of video production. In modern times it's hard to see the relevance of tape-based systems or linear editing, but we've been surprised at how many people ares still using them. If they do the job, that's great—the longer we can keep older hardware functional the better!
In any case it will always be a good thing to remember how it was done "back in the day".
Other relevant pages:
---
The End
That's the end of this tutorial. If you have any questions, please ask in our video forum.