DV Video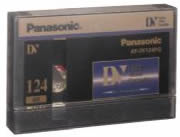 DV (Digital Video) is a video standard launched in 1996. It was created by a consortium of companies and given the official name IEC 61834. The DV standard has spawned a few variations, including DVCAM (Sony) and DVCPRO (Panasonic). Consumers know DV in it's smaller format MiniDV. The high-definition version is HDV, which uses the same style tapes but uses MPEG-2 for compression.
DV uses intraframe compression; that is, compression within each frame rather than between consecutive frames. This makes it an ideal format for editing.
DV uses the Firewire (IEEE 1394) interface to transfer video files between cameras, editing equipment, etc.
DV tapes can be played back in both DVCAM and DVCPRO VCRs.
Specifications at a Glance
Tape:
ME (Metal Evaporate)
Track Pitch:
10 microns (SP)
6.7 microns (LP)
Track Width:
10 microns (SP)
6.7 microns (LP)
Tape Speed:
18.81 mm/sec
Record Times:
MiniDV: 80 min (SP), 120 min (LP)
Standard: 3 hrs (SP), 4.6 hrs (LP)
DVCAM 184 min tape: 4.6 hrs (SP), 6.9 hrs (LP)
Compression:
5:1 DVC-format DCT, intra-frame; 25 Mbps video data rate
Resolution & Sampling:
720x576, 4:2:0 (PAL),
720x480, 4:1:1 (NTSC)
Audio:
2 ch @ 48 kHz, 16 bits; 4 ch @ 32 kHz, 12 bits;
Will accept 2 ch @ 44.1 kHz, 16 bits via 1394 I/O; unlocked