The DVCAM Format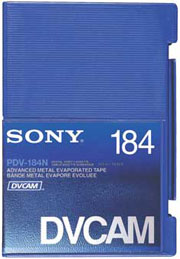 DVCAM is a variation of the DV format developed by Sony and aimed at the semi-professional and lower-end professional market.
DVCAM uses the same type of tape and compression as DV and MiniDV but at a higher speed (almost 50% faster).
DVCAM VCRs can play back DV content, and some VCRs can also play DVCPRO.
DVCAM also provides an HD mode.
Specifications at a Glance
Tape:
ME (Metal Evaporate)
Track Pitch
15 micrometres
Track Width:
15 micrometres (10 micrometres on some early gear)
Tape Speed:
28.215 mm/sec
Record Time:
Standard: 184 mins, MiniDV: 40 mins.
Compression:
Intra-frame, 5:1 DVC-format DCT, 25 Mbps video data rate
Resolution & Sampling:
720x576, 4:2:0 (PAL), 720x480, 4:1:1 (NTSC)
Audio:
2 ch @ 48 kHz, 16 bits; 4 ch @ 32 kHz, 12 bits
Will accept 2 ch @ 44.1 kHz, 16 bits via 1394 I/O; locked.