The DVCPRO Video Format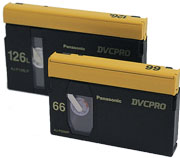 DVCPRO is a format developed by Panasonic. It is a variation of the DV format, aimed at the professional market (in particular for ENG work).
DVCPRO is also known as DVCPRO Standard or DVCPRO25, to differentiate it from other variations. DVCPRO cassettes have a yellow lid, DVCPRO50 have a blue lid and DVCPRO HD have a red lid.
DVCPRO VCRs can play both DV and DVCAM tapes but cannot record in these formats. MiniDV tapes can be played with an adaptor.
Specifications at a Glance
| | |
| --- | --- |
| Manufacturers: | Panasonic, Philips, Ikegami, Hitachi. |
| Tape: | MP (Metal Particle) |
| Tape Speed: | 33.82 mm/sec |
| Track Pitch: | 18 micrometres |
| Track Width: | 18 micrometres |
| Cassettes: | 63 min, 123 min, 184 min |
| Compression: | Intra-frame, 5:1 DVC-format DCT, Bitrate 25 Mbps |
| Resolution & Sampling: | 720x576, 4:1:1 (PAL); 720x480, 4:1:1 (NTSC) |
| Audio: | 16 bit/48 kHz. Additional analog cue track |