The DVCPRO50 Format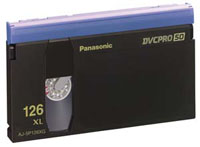 DVCPRO50 is an enhanced version of DVCPRO, aimed at the higher-end professional and ENG market. DVCPRO50 cassettes are identified by a blue lid.
DVCPRO50 offers two technical advantages over standard DVCPRO:
The bitrate is doubled to 50 Mbps
Colour-sampling resolution is 4:2:2 instead of 4:1:1
The increased data rate means that recording time for DVCPRO50 is half that of standard DVCPRO.
DVCPRO50 is backwards-compatible with standard DVCPRO.